Star Wars Battlefront's Instant Level 60 Bug Has Finally Been Fixed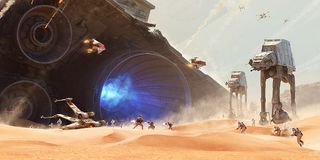 Some Star Wars Battlefront players became one with the Force a bit more quickly than anticipated thanks to a recent bug, skyrocketing their level to the level 60 max. The developers are reporting that the issue has been addressed now, however, and steps will be taken to correct the mix-up.
Fans of Star Wars Battlefront are eagerly anticipating the upcoming Outer Rim expansion, which will add new playable characters, maps and the like to the battle in a galaxy far, far away come April 5.
In preparation for that DLC, Dice earlier this week rolled out a sizable patch that did everything from raise the level cap and add new weapons to allowing players to enjoy matches without having to actually play courtesy of a spectator mode.
Some folks got a bit more than they bargained for out of the update, however, with reports rolling in that their characters had been catapulted all the way up to level 60. According to these accounts, players would play a single round after the update went live, watch as their experience bar whizzed up to 60, and then the game would crash. Simply restarting the game, those folks found that everything about Battlefront ran fine except for the fact that they were still at level 60.
The folks at EA and Dice have since addressed the issue with a hotfix, stating on the Battlefront blog that the experience surges would be corrected.
Sledgehammer70 stated in the update that the servers would go down for 30 minutes while Rank stats were corrected in order to "alleviate the backend issue" that had been detected after launching the most recent patch. It was further explained that, while inconvenient, the reset was necessary to allow player to return to the regular level grind and, you know, not crash at the end of matches. That all went live yesterday during an hour and a half span across PC, PS4 and Xbox One versions of the game.
Hiccups like this are always a bit of a bummer, especially for those who were actually impacted by the unexpected bug. Still, the team responded almost instantly and, within 48 hours, the issue was addressed.
Assuming no other nasty surprises pop up, everyone should be ready to roll once the Outer Rim DLC drops in less than two weeks.
As for our readers, has Battlefront managed to hold your interest for these past few months? If so, were you bit by the level 60 bug? We'd be happy to read up on your experiences in the comments section below.
Your Daily Blend of Entertainment News
Staff Writer for CinemaBlend.
Your Daily Blend of Entertainment News
Thank you for signing up to CinemaBlend. You will receive a verification email shortly.
There was a problem. Please refresh the page and try again.