Star Wars: Battlefront Is Getting More Free DLC After Jakku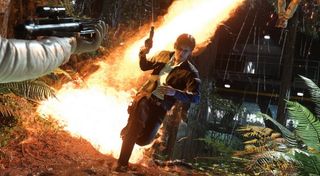 Electronic Arts and DICE's Star Wars: Battlefront managed to get off to a strong start in the sales department. The game has managed to become EA's best selling digital title at launch with decent physical sales. They're following up this momentum with free DLC following the launch of the Jakku DLC.
Over on the official Star Wars Battlefront website, DICE's executive VP, Patrick Söderlund, announced that after the Battle of Jakku DLC launches for Star Wars: Battlefront owners in December, they'll have additional DLC to follow-up thereafter.
According to Söderlund, the Jakku DLC won't be the only non-season pass DLC that they release for the new shooter on the Xbox One, PS4 and PC...
It's at least nice to know that given the game's bare-bones release that DICE has some extra content in the wings for gamers. One of the biggest complaints from the core community is that the game doesn't feel as if it's worth $60.
There are only half the amount of maps and modes present in Star Wars: Battlefront than what was featured in Pandemic's decade old title, and there are no longer any classes, no more multi-passenger vehicles and far fewer weapons to use. The game is a huge step backward as far as content is concerned.
Most gamers and critics agree that the visual and audio aesthetics are top notch and are the best kind of visuals and musical engineering featured in a Star Wars game to date. However, graphics and sound can only take you so far, and it certainly wasn't enough to convince Benjamin Burnley from the band Breaking Benjamin to endorse the product when EA supposedly reached out to him for a paid endorsement but the singer turned it down. Not only did he turn it down but he broke the disc as a form of protest, too.
Previously EA and DICE came under fire from Angry Joe for their secretive yet expensive season pass that sells for $50. After receiving quite a bit of backlash they eventually revealed what was in the season pass, which contains 16 all new maps and four new game modes, in addition with new Star Cards and heroes and villains to play.
Nevertheless, outside of the season pass content there will be non-premium maps and content released for Star Wars: Battlefront as a way to entice gamers teetering on the ledge as to whether or not they should keep the game or trade it in, or suggest it to a friend or abandon it altogether.
One of the biggest issues is that a lot of gamers are questioning whether or not the drop-off rate for this game will be fast or slow, and DICE will need to keep gamers engaged if they want those long tail-end sales. So offering free content in between the season pass DLC is a smart move, but will it be enough to actually keep gamers engaged in Star Wars: Battlefront?
Staff Writer at CinemaBlend.
Your Daily Blend of Entertainment News
Thank you for signing up to CinemaBlend. You will receive a verification email shortly.
There was a problem. Please refresh the page and try again.