Star Wars PS4 With Sweet Darth Vader Paint Job Coming This Fall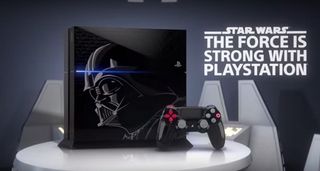 Sony revealed at D23 Expo today that they're going to release two Star Wars-themed PlayStation 4 bundles this fall. Aspiring Dark Lords of the Sith should be very happy with the custom console included in each package.
The Limited Edition Star Wars Battlefront and Disney Infinity 3.0: Star Wars PS4 bundles each come with a 500 GB console emblazoned with Darth Vader's head. The Star Wars logo is repeated along the top of the hardware.
The accompanying DualShock 4 controller is likewise inspired by Vader. It's black with red, white and blue buttons like his chest panel. It's hard to make out in the pictures but the Star Wars logo is tiled across the controller's touchpad.
Star Wars Battlefront's bundle also comes with a Deluxe Edition of the game. The Deluxe Edition instantly unlocks these in-game items. DL-44 blaster, Ion Grenade, Ion Torpedo, Ion Shock, and Victory emote. Additionally, the bundle includes a voucher to download four classic Star Wars games on PS4. The games - Super Star Wars, Star Wars: Racer Revenge, Star Wars: Jedi Starfighter and Star Wars Bounty Hunter - haven't been released on the console before. They're sporting updated graphics along with Trophy support.
The Disney Infinity 3.0 bundle, exclusively available through Wal-mart, comes with practically everything that the other compilation has. You'll obviously get a copy of Infinity 3.0 instead of Battlefront, though. More specifically, you'll get the PlayStation Exclusive Hardware Kit with the following items:
A physical copy of Disney Infinity 3.0 Edition
Disney Infinity Base
Rise Against the Empire Play Set Pack (featuring Luke Skywalker and Leia Organa figures, as well the Rise Against the Empire Play Set piece)
Boba Fett figure, exclusive to PlayStation through the holiday season
Sony didn't mention pricing for either package. However, they do note that they're preparing a standard edition Battlefront PS4 bundle that comes with a black controller and console instead. Presumably that's going to be cheaper than whatever the Darth Vader PS4 bundles cost. When Arkham Knight hit PS4 earlier this year, the console with the custom paint job cost $50 more. The Arkham Knight bundle with the black console and controller had the usual price tag of $400.
Both the Star Wars Battlefront and Disney Infinity 3.0 bundles will be debuting on November 17th, PlayStation.Blog says. Pre-orders will be available soon.
Staff Writer at CinemaBlend.
Your Daily Blend of Entertainment News
Thank you for signing up to CinemaBlend. You will receive a verification email shortly.
There was a problem. Please refresh the page and try again.