Star Wars: The Old Republic Will Host Massive Beta Test Weekend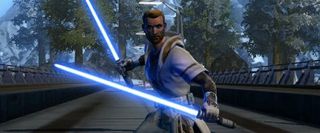 Over the past few months, BioWare has been holding beta test weekends for Star Wars: The Old Republic that let interested gamers take a sneak peak at the MMORPG. If you haven't gotten invited to one of these tests yet, you're about to get your chance.
"When we started our Beta Testing Weekends, we told you that each weekend would include more testers than the last," said BioWare. "We're excited to announce that later this month we will be conducting our largest Beta Testing Weekend yet, specifically designed to help us stress test our servers in preparation for the launch of Star Wars: The Old Republic."
Anyone who registered for testing prior to November 11th will be invited. BioWare says they'll send out the invites in the coming weeks. Some players have already received them.
If you didn't sign up for testing, you've still got a shot at the beta weekend. Several sites will be giving out codes for the beta soon. A full list of participating sites can be found at the SW:TOR website.
The Old Republic will launch on December 20th worldwide.
Staff Writer at CinemaBlend.
Your Daily Blend of Entertainment News
Thank you for signing up to CinemaBlend. You will receive a verification email shortly.
There was a problem. Please refresh the page and try again.