Star Wars: The Old Republic Razer Peripherals Now Available For Pre-Order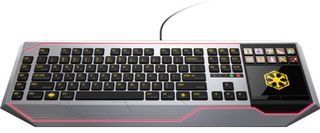 Later this month, BioWare will launch Star Wars: The Old Republic. Razer will be selling several SW:TOR-branded peripherals to make it easier for you to travel to a galaxy far, far away. All of these devices are currently available for pre-order.
The Star Wars: The Old Republic Gaming Keyboard has ten "dynamic adaptive" keys where you can put your most important abilities or spells. A multi-touch LCD track-panel gives you another way to move through the game world or control your media player. As is standard for gaming keyboards, this board also features anti-ghosting technology so that you can pull off multiple button macros with ease.
The TOR Gaming Mouse features seventeen programmable buttons. Twelve of these buttons are set up in a grid next to your thumb. It's very similar to the Razer Naga.
The wireless headset supports Dolby 7.1 surround sound. It features a boom microphone with adjustable tension. The bottom edge of each headphone has a light with customizable color.
All three of these peripherals, along with the gaming mouse mat, can be personalized with a Galactic Republic or Sith Empire logo. These emblems are actually interchangeable, so you won't have to buy a new one if you decide you like the Sith Empire more after all.
Pre-ordering the mouse, headset, or keyboard will give you access to a free Color Crystal for The Old Republic. This Crystal allows you to make your lightsaber blade or blaster bolts green.
Razer expects to start shipping the keyboard on January 15th. The other three peripherals will be mailed out starting on December 15th, though, so you can get them before TOR's launch on the 20th.
Image 1 of 6