Star Wars: The Old Republic Team Hit By Layoffs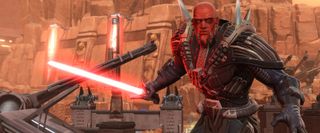 BioWare has decided to trim the development team for Star Wars: The Old Republic. Today they confirmed that they're letting an unknown number of employees go as part of a "restructuring" effort.
"Sadly, we are bidding farewell to some talented, passionate and exceptionally hard-working people who helped make SWTOR a reality," said BioWare co-founder Greg Zeschuk on the game's forum. "Impacting people's lives this way is always very hard, but we're ensuring the affected people are treated with dignity, fairness and respect."
Zeschuk adds that the development team is still "very substantial." They plan to continue adding content to the MMORPG, just as they have been since the game's launch. Some new features they plan to release in the coming months include server transfers and new species.
Old Republic debuted in December of last year. Thanks to BioWare's reputation and the Star Wars license, it attracted a huge number of players right off the bat. The subscriber total at one point was 1.7 million. However, in an earnings report from early May, EA announced that the subscriber base has shrunk by 400,000.
The development team of Old Republic, meanwhile, is massive. BioWare enlisted over 800 people to work on the MMO. Some trimming, especially in the wake of dwindling subscriber numbers, seems inevitable. This sort of news could nonetheless give players a sinking feeling.
Staff Writer at CinemaBlend.
Your Daily Blend of Entertainment News
Thank you for signing up to CinemaBlend. You will receive a verification email shortly.
There was a problem. Please refresh the page and try again.