StarCraft 2 Legacy Of The Void Trailer Prepares For Invasion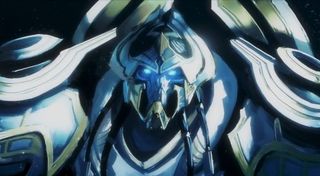 Blizzard released a new video for the upcoming final chapter of StarCraft II's Legacy of the Void, featuring two characters that help introduce gamers to the world of the Protoss, why they fight and what they fight for.
The video recently went live over on the StarCraft YouTube channel, and it's mostly a five minute recap of the history of the Protoss. Check it out below.
An introspective video about the Protoss and whether or not their motives are proper. What's interesting is that it gives a history of the Protoss and their strife throughout the galaxy as they fought amongst themselves, fought against the Dark Templar and fought against the Zerg.
For anyone who is not familiar with StarCraft II this is a great lead-in to the story of the game and a nice reminder that Blizzard stands at the top of the heap not just for crafting great games with memorable gameplay, they also have some of the most original and in-depth characters featured in video games. The video above is a real highlight of that, giving gamers a reason to care about the story at hand by adding context and depth to a story within the span of just five minutes. That's master story weaving right there.
This video follows shortly behind the opening cinematic for Legacy of the Void where it gave gamers a strong sense of what was to come from the upcoming expansion pack. The response to the opening cinematic has been nothing but positive. Blizzard is absolutely top notch at churning out high quality cinematics. I'm convinced that they should just start making direct-to-video cinematic movies based on their properties to cash in on the fandom. Also, if the Warcraft movie due out next year does well enough maybe we'll see a StarCraft movie follow suit? I actually think that Blizzard's sci-fi universe has a lot of rich material to utilize for a giant, mega-blockbuster. Then again, the same could be said about Warhammer 40,000 and we still don't have a mega-blockbuster based on that property yet.
Anyway, it's been a long time coming but the StarCraft II trilogy is finally coming to an end and Legacy of the Void seems like a great way to round out the series.
I suppose the next big question is what will Blizzard do next with the StarCraft universe following the launch of the final expansion pack for the second game? New IP? Another sequel? Or a spin-off?
I guess for now they're just going to focus on the release of StarCraft II's final expansion come November 10th. The Legacy of the Void will be exclusively available for PC and will be going head to head with the launch of Fallout 4. Good times ahead.
Your Daily Blend of Entertainment News
Staff Writer at CinemaBlend.