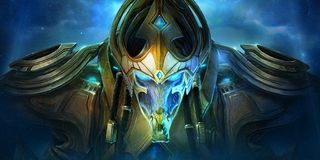 StarCraft 2: Legacy of the Void is now available for pre-purchase on PC and Mac. Blizzard is offering an interesting incentive to players who throw down money for the standalone expansion pack: a bonus set of missions you can play right now.
The bonus content is called Whispers of Oblivion. This three-mission arc is set between the events of Heart of the Swarm and Legacy of the Void. Players will follow the dark templar Zeratul as he investigates the Xel'naga prophecy at the heart of SC2's various wars.
On the downside, you're getting access to the beta version of Whispers rather than the official version. While Blizzard stresses that all of the missions are completely playable in their current form, your progress and achievements from the beta won't carry over to the final version of this prologue.
If you don't pre-purchase Legacy of the Void, you'll still be able to play the Whispers of Oblivion. You'll have to wait a lot longer, though. Blizzard said that they'll make the three missions available to all players "before the game's release," scheduled for this winter.
Blizzard will offer three different editions of Legacy of the Void for purchase. You can get a physical or digital Standard Edition for $39.99, which includes the base game as well as an upcoming Starcraft character for Heroes of the Storm. While Blizzard didn't divulge this character's identity, they did mention it's going to be a Warrior.
The next step up is the $59.99 Digital Deluxe Edition, which comes with a range of items for other Blizzard games:
Archon battle pet ready to join your side in World of Warcraft
Void Seeker mount to charge through the Nexus in Heroes of the Storm
Protoss card back to demonstrate your psionic potential in Hearthstone
Protoss-themed portraits and unit skin for StarCraft
Retailers will also offer a Collector's Edition for an unknown price. This physical bundle will come with the bonuses from the Digital Deluxe Edition along with a hardcover StarCraft Field Manual, the soundtrack on CD, and a DVD with cinematics and other special features.
Legacy of the Void wraps up the story started in SC2: Wings of Liberty and continued in Heart of the Swarm. The player is Hierarch Artanis, the leader of a vast Protoss armada. Artanis must lead this force in reclaiming the Protoss homeworld of Aiur and defeating a threat to the entire galaxy.
Void also enhances the multiplayer with new units and co-op modes. The beta test for the expansion launched in April.
Your Daily Blend of Entertainment News
Staff Writer at CinemaBlend.