These Steam Curators Are Huge Trolls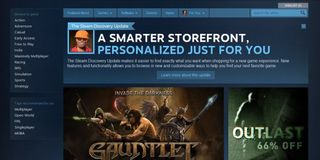 Starting this week Steam users can become "Curators," enabling them to recommend titles to the rest of the community. It didn't take long for people to find ways to troll games.
Even if you're not following a Curator, you may see their opinions anyway. Each game's Steam listing has a new section called "Recommended By Curators" that's displayed above the description of the game. This section contains a short quote from a Curator
Steam seems to display the quote from the Curator with the most followers. This generally results in more credible, helpful Curator blurbs being displayed. However, games that haven't attracted wide attention yet are at the mercy of whoever stumbles on them first. Here are the Curator quotes you'll find displayed on procedural platformer Gravity and strategy sim TransOcean - The Shipping Company, two newly released titles:
There's a fair amount of Curators using their lists to warn people away from products. I think that's fine; a list of really broken games on Steam is a valuable tool. Still, this Curator's take on Indie Game: The Movie isn't all that helpful:
Bizarrely enough, Steam also lets Curators recommend games that haven't been released yet. Here's the helpful quote that awaited me when I looked up Call of Duty: Advanced Warfare:
In the time it took me to write this article, Steam seems to have taken down all of the Steam Curator quotes for Advanced Warfare. They seem to be removing them from other unreleased titles like Middle-earth: Shadows of Mordor and Assassin's Creed Unity as well. That's a step in the right direction.
Granted, Steam Reviews and Tags have plenty of weirdness as well. However, Steam Reviews are at the very bottom of a product page while most Tags have to be viewed on a separate page entirely. These Curator quotes, however, are front and center. It's the first thing you see after the price and title.
I'm not surprised some Steam users would leave such strange or hostile comments on game listings. They're acting within the really lenient restrictions currently in place. Ultimately the responsibility for keeping order lies with Valve. I think curated collections can be handy guide for consumers but the feature's a real mess now.
Staff Writer at CinemaBlend.
Your Daily Blend of Entertainment News
Thank you for signing up to CinemaBlend. You will receive a verification email shortly.
There was a problem. Please refresh the page and try again.