Steampunk Batman Gameplay Video Leaked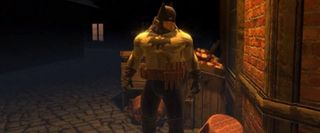 A couple years back, F.E.A.R. 3 developer Day 1 Studios was working on a steampunk Batman game called Gotham by Gaslight. Concept art for the cancelled game was uncovered in January and today a gameplay video was released.
Gotham by Gaslight was originally a Batman comic set in the late 19th century. English serial murderer Jack the Ripper has come to Gotham and it falls to the Dark Knight to stop him. The comic was part of DC Comic's Elseworlds series, which offered new takes on classic heroes.
Day 1 Studios pitched a PS3/Xbox 360 video game adaptation of Gaslight to THQ in 2009. However, the project never panned out. The fact that Rocksteady was releasing their own Batman game at around the same time probably didn't help its chances.
The video, obtained by Siliconera is obviously a bit raw. It's an animation prototype so it wasn't meant to be showed off to gamers. The footage suggests it would've been an open-world game like Arkham Asylum and Arkham City. Knowing how good those two games turned out to be, I am slightly sad that this steampunk project will never see the light of day.
Staff Writer at CinemaBlend.
Your Daily Blend of Entertainment News
Thank you for signing up to CinemaBlend. You will receive a verification email shortly.
There was a problem. Please refresh the page and try again.