Story Of Seasons Continues Harvest Moon's Legacy On 3DS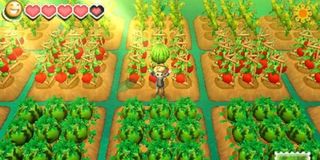 Planting crops, raising livestock, forming friendships and possibly even a romance or two; it's all in a day's work for any title in the Harvest Moon series. Now, the spiritual successor to the much-loved life-simulator is set to hit the Nintendo 3DS later this year, it's coming from XSEED Games, and it's called Story of Seasons.
It seems fitting that Story of Seasons is being brought stateside this Winter by XSEED. You see, because the game is all about planting crops and stuff, and the publisher's name is XSEED. As in X-"Seed." As in planting seeds—Oh Never mind!
For those of you who are feeling a little intimidated by the sudden change in name, fear not: You're basically looking at the new Harvest Moon game here. They couldn't legally call this one Harvest Moon, though, but the team behind the game is packed with series veterans and longtime lead producer, Yoshifumi Hashimoto, is once again at the helm of Story of Seasons.
XSEED is billing Story of Seasons as a "new beginning" for the storied franchise, but everything about the games seems to signify it's going to be crammed full of the type of gameplay that has kept folks coming back for years and years.
"Story of Seasons represents a new chapter in our amazing tale," said Hashimoto. "We are creating a new experience that will carry on the spirit of Bokujo Monogatari (Harvest Moon, here in the states), and in doing so, will fulfill our loyal fans' expectations and desires wile ushering in a new generation of games to come."
In Japan, Story of Seasons was released as just another Bokujo Monogatari game, subtitled "Connect to a New World." As such, XSEED and company promise it carries on the same life simulation and farming RPG goodness the series has become known for over the past couple of decades.
One aspect that will help set Story of Seasons apart from its predecessor, though, is an element of player customization.
"Players will create a fully customizable character, selecting gender, hair style and facial features as desired," reads a statement from XSEED Games. "They will then take on their role as the newest resident of Oak Tree Town, a small settlement filled with promises of new beginnings, hard work and significant relationships."
Along with all of that social jibba-jabba, players will of course be responsible for tending their crops, taking care of their animals and taking part in several other activities both on and off their personal ranch. You'll even be able to expand and customize your farm, creating a layout that best suits your needs.
And, similar to games like the most recent Animal Crossing, players will be able to use multiplayer and StreetPass features to visit their friends' farms, work on crops together and exchange gifts.
For all of your farming needs, look for Story of Seasons to hit the 3DS sometime this winter.
Staff Writer for CinemaBlend.
Your Daily Blend of Entertainment News
Thank you for signing up to CinemaBlend. You will receive a verification email shortly.
There was a problem. Please refresh the page and try again.