Street Fighter X Tekken Pay-To-Win Gems Coming This May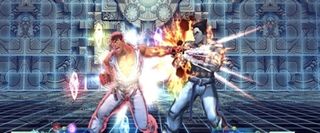 A lot of people afraid about the DLC Gems in Street Fighter X Tekken had every reason to be. While the game will soon have 60 free Gems thanks to a free title update, Capcom has announced at Captivate that additional, more powerful Gems will be made available for a small price.
The Gems in Street Fighter X Tekken can alter things from boosting up your meter faster based on executing specific moves, to doing slightly more gameplay-affecting things like auto-blocking for you.
At this year's Capcom Captivate event, game producer Yoshinori Ono was well rested after being in the hospital due to falling ill, and according to El33t Online dropped details about the PS Vita's cross-platform gameplay mechanics for Street Fighter X Tekken as well as the May update which includes another palette update with some free colors, as well as Assist Gem Pack 4 for $2.00 or 160 MS Points, and Booster Pack 3 and 4 for $1.00 or 80 MS Points.
Essentially, the paid-for Gems offer slightly better advantages with fewer disadvantages, giving players with the right skills a vast advantage over the competition. The landscape basically enables gamers who pay for better Gems to have better in-game boosts and bonuses than those who do not. In the free-to-play MMO market it's called "paying to win".
What's more is that if you own both the PS3 and PS Vita versions of Street Fighter X Tekken you can share the 12 disc-locked characters -- who are free in the Vita version -- with your PS3 rendition. Meaning, if you use the Wi-Fi or cross-compatibility of the PSV, you won't have to buy the extra 12 characters for the standard Street Fighter X Tekken on the PS3.
The next update for unlocking the disc-locked content for Street Fighter X Tekken will arrive this May. All the meanwhile Capcom still has the Better Business Bureau complaints looming overhead.
Your Daily Blend of Entertainment News
Staff Writer at CinemaBlend.