Harry Potter: Hogwarts Mystery Will Let You Duel With Other Players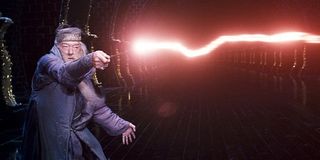 Now that Harry Potter: Hogwarts Mystery players have had a chance to learn multiple offensive and defensive spells within the game, Jam City has decided to up the ante with the introduction of a Dueling Club. For a limited time, young witches and wizards will have an opportunity to test their magic-flinging skills against other players in the game's first ever multiplayer event.
Break out your smartphones, students, because it's time for your first test in the world of Harry Potter: Hogwarts Mystery. Jam City and Warner Bros. Interactive Entertainment announced that today marks the grand opening of Dueling Club, a chance for players to square off against each other in the ultimate competition of spells and hexes.
Whether you're casting the disarming charm of Expelliarmus or the forceful push of Flipendo, everything you've learned within Hogwarts Mystery will come in handy for the next several days. Dueling Club is a limited event, which will run through July 15. Not to worry, though, as the developer has made it clear that additional events and the return of Dueling Club is on the horizon. While it's possible they're treating competitive play as a limited event in order to test more permanent mechanics, it's equally possible they will continue to treat these kinds of activities as special occasions in order to keep players coming back for more. Hey, it's worked out swimmingly for Pokemon Go, so why not?
The dueling mechanics in this event will be the same as they are within the standard game, with the key difference being that you'll be testing your magical skills against another player instead of an AI-controlled combatant. When the event goes live today, everyone will receive three tickets to take part in the special dueling event. As a heads up, you need to be using Facebook Connect to actually join the competition.
If that's the case, you can hop into the Dueling Club and wait to be matched with an eager opponent. Whoever loses will simply have to fork over one of their tickets. Whoever wins gets to keep their ticket and will also earn in-game items for every victory. In other words, if you have a really bad run, your first experience in Dueling Club could be over as quickly as three matches. Prove to be a dueling all-star, though, and you could be competing for the entirety of the event. While the announcement did not state this will be the case, we wouldn't be surprised if additional tickets can be won as an in-game reward throughout the event. But again, that's just a prediction on our part and we're certainly no Sybill Trelawney.
For additional details, feel free to drop by the game's official website.
Staff Writer for CinemaBlend.
Your Daily Blend of Entertainment News
Thank you for signing up to CinemaBlend. You will receive a verification email shortly.
There was a problem. Please refresh the page and try again.