Super Mario Bros. Theme Song Has Lyrics, Believe It Or Not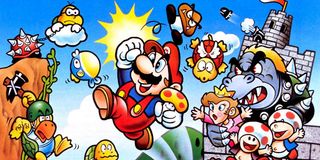 The Super Mario Bros. theme is one of the most recognizable pieces of music in video game history. What most people don't know, though, is that the theme has actual lyrics, too.
In 1985, fans of the Japanese radio show Takao Komine All Night Nippon came up with lyrics to the iconic theme. Nintendo immortalized their efforts by releasing a vinyl record of the theme with these sung lyrics. Here's a performance of the song from the "Mario and Zelda Big Band Live" concert in 2003:
Here are the translated lyrics for "Go Go Mario," in case you're curious:
Yeah, they're not great lyrics. It's pretty much just a narration of things that happen in Mario games. The best thing I can really say about the lyrics is that they match the cheerful tone of the music.
Rather than trying to politely ignore that "Go Go Mario" ever happened, Nintendo is embracing it. As reported by RocketNews24, the song is part of an update to the Joysound karaoke machines in Japan. Instead of simply showing the lyrics from the song, the karaoke video for "Go Go Mario" also features a montage of footage from various Mario games, including Super Mario Bros. 3 to this year's Super Mario Maker . Here's a short clip from the montage released by Joysound:
Your Daily Blend of Entertainment News
Staff Writer at CinemaBlend.