Super Smash Bros. Wii U And 3DS Will Add Lucas Soon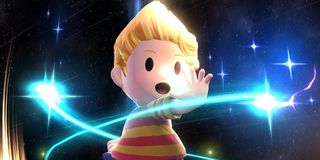 The Super Smash Bros roster is primed for another addition in just a little over a week as Nintendo announces the impending launch of Lucas DLC.
Brevity can be a beautiful thing, which is why I'm such a fan of Nintendo UK's recent announcement for Smash Bros.' newest combatant. Revealed through the publisher's twitter feed, it simply reads, "Lucas enters the battle on 14th June!" Short, sweet and to the point.
For those of you with a calendar on hand, you may have noticed that June 14 is the Sunday of E3. In other words, those of you who will be attending the show have something to keep you busy while waiting in line for all of those demos and live demonstrations.
Now, let's get a refresher course on what the blonde-haired kid looks like in action…
Just like with Mewtwo, Lucas will set you back $3.99 on the 3DS or Wii U separately, or just $4.99 if you want to have access to the character on both versions of the game. As you may have noticed in the trailer, Lucas has a few new tricks up his sleeve, which is always nice to see for a character that, at first glance, appears to be just a pallet swap for a character who is already in the game.
If that isn't enough DLC for you, Smash Bros. should also be adding in the Miiverse battle stage on that same date at no additional charge, as well as a Splatoon costume set for your Mii fighters. Those costumes, though, will likely come at an additional charge. Also, new duds are nice and all, but I'd kind of prefer an actual Splatoon character, if anyone at Nintendo is taking notes.
Which brings us to a piece of business every video game fan adores: Speculation. That June 14 timing for Lucas, to me, speaks volumes about what might be in store for Nintendo's virtual press conference scheduled for two days later. The Big N has allowed fans to vote on what characters they'd like to see added to the roster in future updates and, if you're going to launch Lucas before the big show, that seems like pretty good timing to make an announcement for the next character, yeah?
Rumors have been going around that Ryu might get plugged in at some point, but I've still got my fingers crossed for someone like Simon Belmont from Castlevania, Mia from Golden Sun, Neko from The World Ends With You or maybe even the Warrior of Light from the original Final Fantasy.
So tell us, dear readers: Who do you want to see added to the Smash Bros. roster?
Staff Writer for CinemaBlend.
Your Daily Blend of Entertainment News
Thank you for signing up to CinemaBlend. You will receive a verification email shortly.
There was a problem. Please refresh the page and try again.