Super Street Fighter IV Arcade Edition Arriving This Summer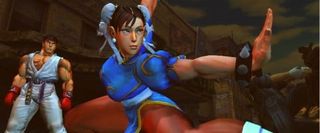 It's starting to feel like Street Fighter II all over again with Street Fighter IV. If you're an old-school gamer who remembers the 101 iterations of Street Fighter II that spanned across multiple platforms, well you might be seeing a similar trend with Street Fighter IV. Capcom announced today that the popular fourth sequential-installment of the fighting game franchise will be receiving another re-release in the form of Super Street Fighter IV Arcade Edition this summer.
The new arcade version of the game will contain four brand new characters, new re-balancing features, additional online game modes and a brand new replay theatre. Maybe now gamers can put together some nice looking fight montages using the replay channel.
Regarding the four new characters…two of them are Yun and Yang from Street Fighter III as well as a brand new character called Oni. You can check out a new gameplay video of the new Super Street Fighter IV Arcade Edition below. The game is scheduled to release for the Xbox 360, PS3, and PC this summer.
Staff Writer at CinemaBlend.
Your Daily Blend of Entertainment News
Thank you for signing up to CinemaBlend. You will receive a verification email shortly.
There was a problem. Please refresh the page and try again.