Take Your Call of Duty: Black Ops 3 Beta Further With New Content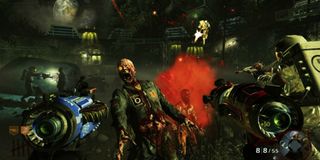 The Call of Duty: Black Ops 3 beta is underway right now, and players who got an early start were treated to a few maps, game modes, and other game content.
Now VG247 is reporting that players will be receiving an update today via Treyarch that adds in several other modes, a new level cap, and new maps to explore.
This is all very sudden, isn't it? Considering the beta has just begun, raising the level cap to 34 is an interesting move, but as Treyarch design director David Vonderhaar has expressed, less than 10% of the players involved in the beta have reached the level cap already in place. Knowing Call of Duty fans and the typical player set, that's actually pretty surprising, given the fact that some players would reach the first prestige level the same day the games release in the past. Crazy.
The level cap, previously at 28, is being raised to 34, and the Stronghold map is being added, as well as Uplink. Uplink was seen in Advanced Warfare previously, so players in Call of Duty: Black Ops 3 get another chance to experience it in a new environment.
A new specialist class will be available for those who happen to reach Level 34, and it's the Reaper class, with the real name of Experimental War Robot (EWR). Its weapon is a scythe that turns into a mini-gun, and it can use psychosis to infiltrate systems to simulate decoy clones.
This is a great example of a good way to ensure players remain within a beta when it's going on: adding new content at a pretty quick pace, especially since there's still so much to explore in the original maps and whatnot. It also acts as an extended demo that allows people to see what they'll get with the actual retail package. Call of Duty is quite divisive as it is, and there are still the camps that adhere to the old "Infinity Ward vs. Treyarch" debate, no matter how much things have changed over the years.
It seems there are more planned tweaks coming to the beta in the next few days, and a recent press release confirms it'll be announced via one of Treyarch's many social media channels. Stay tuned, and we'll be here to let you know what happens.
Your Daily Blend of Entertainment News
Your Daily Blend of Entertainment News
Thank you for signing up to CinemaBlend. You will receive a verification email shortly.
There was a problem. Please refresh the page and try again.