Tales From the Borderlands Episode 1 Launches, Here's What The Reviews Say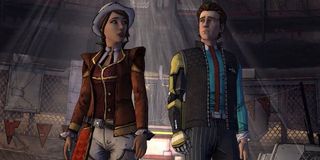 Telltale Games has released "Zer0 Sum," the first episode of their new adventure game Tales from the Borderlands. Not everyone will be able to play it today, though.
Today's launch only applies to the PS3 and PS4 in North America as well as the PC. Here's the timetable for the game's debut on other platforms:
Wednesday, November 26th: Xbox One
Thursday: November 27th: Mac
Wednesday, December 3rd: PS4 and PS3 (Europe), Xbox 360
"By the end of 2014": iOS and Android devices
Tales from the Borderlands takes place on the alien world of Pandora sometime after the events of Borderlands 2. Players take on the role of two characters hoping to make it big. Rhys, Hyperion executive hoping to taking over the corporation, finds himself partnering up with con artist Fiona to recover a huge sum of cash.
"This journey will take players on a wild ride where gangsters, bandit lords, and Vault Hunters are just some of the obstacles they will encounter in this new take on the award-winning universe created by Gearbox Software," Telltale says of the game.
Unlike the Vault Hunters from the main Borderlands series, Rhys and Fiona aren't warriors. They won't be fighting off scores of enemies. Instead, Tales from the Borderlands is closer in style to Telltale's The Walking Dead and Wolf Among Us: it's driven more by dialogue and puzzles than combat. Players' choices throughout the game will have both short-term and long-term effects on the story.
During the adventure, players will encounter plenty of familiar faces from the first two games. The title of the first episode implies that we'll meet up with Zer0, the stealthy assassin from Borderlands 2.
The first reviews for Tales have already arrived and they're positive across the board. The game's sitting at a 90 Metacritic average right now on PC, with no scores lower than 85. Here are a few choice quotes:
"It already comes across as more than a disposable spin-off, with a plot that ties into the main Borderlands canon in both direct and indirect ways. As well as giving hints at a far bigger narrative throughout, we get to see how Hyperion is dealing with Handsome Jack's fate, and Episode One's ending provides a revelation that'll have fans quite excited for what's to come." - JimQuisition
"You'll likely find yourself picking the dialogue options that seem the silliest, because that's really what this universe is about. But that doesn't mean that none of them are meaningful. There are still life and death calls to make, and as either Fiona or Rhys, you can choose to foster trust between this band of crooks who have been flung together, or find a way to screw the others over." - PCGamesN
"One thing this first episode does suffer from slightly is a lack of clear choice. Obviously it's hard to speculate on what impact the choices you do make will have later on in the story, but on first glance they seem fairly black and white, and limited to specifically this episode. That said, there are so many classic moments in Zer0 Sum, that it can be forgiven for wanting to put its best foot forward for now. In fact, it's nice to have that water-cooler feel back in Telltale's games. It's a testament to the volume of those moments that I've barely touched upon the Vault Hunter involved – but I'll leave that for you to enjoy." - God is a Geek
I do feel like Telltale's games are at an advantage when it comes to reviews because they've carved out a niche in gaming that no one else occupies. They don't have any real competitors to be compared against. Still, from the sound of the reviews, anyone who enjoys the Telltale formula will like Tales from the Borderlands as well.
Your Daily Blend of Entertainment News
Staff Writer at CinemaBlend.
Your Daily Blend of Entertainment News
Thank you for signing up to CinemaBlend. You will receive a verification email shortly.
There was a problem. Please refresh the page and try again.