Tales From The Borderlands Gets Gameplay Trailer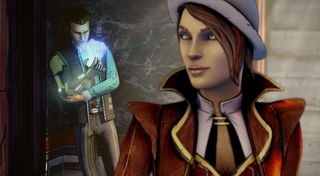 Despite still not having a release date attached to the project, it looks like we might not have too much longer to wait before Telltale Games' latest project, Tales from the Boarderlands, gets released upon the masses. Judging by the recently released gameplay trailer, it looks like everything's coming along quite nicely.
Telltale has been pretty dang busy as of late. While their adventure game takes on Back to the Future and Jurassic Park didn't turn too many heads, the developer found something of a magic formula in its handling of the legendary The Walking Dead license. Their initial title set in the world of shambling corpses took the gaming world by storm, earning more than a few "Game of the Year" nods along the way.
They followed up with an also awesome take on another comic series in the form of Wolf Among Us, and even offered up a second season of Walking Dead content that left players scrambling for more.
Nowadays, the developer is busy teasing their also upcoming game based on the Game of Thrones series, as well as Tales from the Borderlands, which takes place in the extremely popular cooperative first-person shooter's universe.
Until now, we didn't know much about what Tales from the Borderlands would have to offer. Thanks to the trailer pumped out by Telltale earlier today, however, the picture is starting to become more clear. Assuming the full series lives up to the trailer, it looks like we can expect all of the humor and violent antics of the Borderlands universe delivered in the heavily decision-driven narrative of a Telltale game. Also worth noting: Telltale's trademark cell shaded art style matches up nicely with the Borderlands series' similar look.
We've got lots of jokes, witty one-liners, a pair of likable heroes, a returning character that has a knack for cutting psychos in half and even a semi-cameo from Handsome Jack.
"Set on the unforgiving world of Pandora after the events seen in Borderlands 2, Tales from the Borderlands is a five part episodic game series full of Borderlands' trademark humor, following two adventurers on their quest for greatness," reads the official post. "You'll play as Rhys, a Hyperion 'suit' with dreams of being the next Handsome Jack, and Fiona, a Pandoran con artist looking to score her biggest ever swindle. Thrown together as unwilling partners in an adventure to recover cash they both think is theirs, their journey will take you on a wild ride through Gearbox's Borderlands universe where gangsters, bandit lords, and Vault Hunters are just some of the obstacles you'll encounter."
We know that the game is "coming soon" to both PlayStation and both Xbox consoles, as well as PC/Mac, iOS and Android devices. As a final note, expect an amazing voice cast including Nolan North, Troy Baker, Laura Bailey, Chris Hardwick and more.
Staff Writer for CinemaBlend.
Your Daily Blend of Entertainment News
Thank you for signing up to CinemaBlend. You will receive a verification email shortly.
There was a problem. Please refresh the page and try again.