Tales Of Xillia Western Version Will Be Same As Japanese Version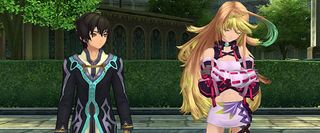 After a long delay, Japanese RPG Tales of Xillia will make its way to Western territories. Don't expect an Enhanced Edition of the game, though. Tales series producer Hideo Baba says that there won't be any changes made to the localized version.
"I understand this concern well, but we consider the Japanese version of the game as a finished product and hope overseas fans can enjoy the game as it is," Baba told PlayStation.Blog. "The same can be said for all the DLC content as well. There is no big change between the original Japanese version and the international version because we want to provide the same gameplay experience as much as possible between all regions."
Xillia's DLC seems to have been composed merely of costume packs. These premium add-ons allowed you to dress up the characters like butlers, maids, Santa Claus and more. Baba didn't mention this content being included with the Western version of the game (that sort of thing happens with re-releases sometimes) so expect to pay for it separately.
Namco released Xillia in Japan last September. It won't arrive in Europe and North America until 2013. It's a bit disappointing to hear that Western players won't be getting any extra content as compensation for this wait. Baba said that they're simply too busy to make that happen, though.
"The team's main objective is to create new titles for Japan first, and unfortunately staff resources are not always available. Moving forward, I would really like to assemble teams to release as many of the main Tales of games overseas as possible."
Namco is currently developing the sequel to Xillia. It's scheduled to hit Japan on November 1st.
Your Daily Blend of Entertainment News
Staff Writer at CinemaBlend.
Your Daily Blend of Entertainment News
Thank you for signing up to CinemaBlend. You will receive a verification email shortly.
There was a problem. Please refresh the page and try again.