Tekken X Street Fighter Isn't Cancelled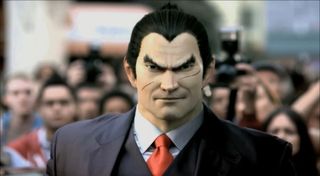 Katsuhiro Harada has been silent for a long time on the development regarding Tekken X Street Fighter, Bandai Namco's take on the crossover fighting game where Tekken fighters go head-to-head with Street Fighter characters. However, the famed fighting game producer has finally broken his silence regarding the branded crossover title.
Siliconera picked up news about the mysterious Tekken and Street Fighter game from an interview Harada had with Japanese gaming outlet Famitsu.
In the interview, when asked about the progress on Tekken X Street Fighter, Harada said...
That's very interesting. If the models, line-up, moves and fighting systems are already in place a lot of gamers are probably wondering "Where is the game then and why haven't we seen anything yet?"
It's a legitimate question given that the game appears to be in development hell for as far as most gamers are concerned. Say what you will about Capcom's shady DLC practices, but Yoshinori Ono actually did deliver on the promised Street Fighter X Tekken. Also, shady DLC practices aside, the actual game is pretty solid. The unfortunate reality is that the title was mired in a scandal that hampered the average gamer's market perception on the title.
Some speculate that Namco may have wanted to create separation between Street Fighter X Tekken and their version of the game so that when it does come out the average gamer won't be thinking about a DLC fiasco.
Siliconera, however, makes the observation that Harada has been busy working on a number of other games and that his time on projects like Pokken Tournament and Tekken 7 may have simply eaten into his efforts on the Tekken X Street Fighter game.
It is possible that Tekken 7 is the game that has occupied a lot of Harada's time, and quite frankly it would make sense that other games are being pushed to the side so he can finish up the latest title in the long-running Tekken franchise.
This also creates another conundrum.
While Tekken 7 still doesn't have a release date, we do know that Street Fighter V is releasing early in 2016 for PS4 and PC. If Tekken 7 is set to arrive in mid to late 2016, where would that put Tekken X Street Fighter? Releasing too soon could cannibalize the market. Releasing to late could see the game losing a lot of interest from the gaming community.
Alternatively, if Street Fighter V does really well and Tekken 7 does just as well, we could see heightened excitement for another crossover game. So, in a way, delaying the game actually helps because getting the game out in 2017 might see Tekken X Street Fighter working on a clean slate without having to worry about cannibalizing or being cannibalized by another top-tier fighter, and they could work on the momentum built up through 2016 by Tekken 7 and Street Fighter V.
Of course, that's all just speculation. We have no idea what Harada and the rest of the crew at Namco have planned for the crossover game but at least now we know it's still in development.
Your Daily Blend of Entertainment News
Staff Writer at CinemaBlend.