Telltale's Game Of Thrones Features Actors From HBO Show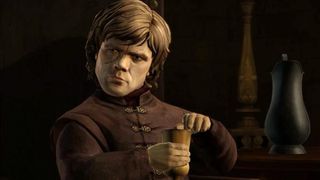 Whether you're a Lannister or a Stark, chances are pretty good that you're equally excited for Telltale Games' upcoming adventure title based on Game of Thrones. Along with a new trailer showing off a few settings and character, the developer has now revealed that several key actors and actresses will reprise their roles in this latest take on the legendary fantasy series.
According to a recent post on Telltale's official site, the Game of Thrones, um, game, takes place in the same universe as the popular HBO series and will focus on the story of House Forrester.
"Caught up in the events of The War of the Five Kings, they're placed in a precarious position where members of the household must do everything they can to prevent the house from meeting its doom," reads the post. "House Forrester is a noble house from the Wolfswood in the north of Westeros. Bannermen to House Glover, they have always offered unswerving loyalty to the ruling great house of the North - the Starks."
It's the tale of a proud family and their home, Ironrath, which was built over 1500 years ago from the sturdy ironwood trees the family draws its life and strength from.
Like the books and movies before it, the game version of Game of Thrones will feature a story told from multiple perspectives. Five, to be exact. With House Forrester on the brink of destruction, these characters will play their part in locations all over Westeros in a combined effort to save their family.
And, since this is a Telltale game (You know, those folks who made the amazing Walking Dead and Wolf Among Us games?), your choices will bear great consequences as the season of playable chapters is released.
"Playing as five characters not only reflects the epic scope of Game of Thrones, but is also something that you'll need to be mindful of as you play through the season," continues the announcement. "This is because the actions of one character can ripple out to affect the rest of House Forrester. Multiply the actions of one character by five, and you're truly playing the Game of Thrones...where you win, or you die.
These characters will come in contact with some familiar faces from the series, too, who will be played in-game by their on-screen counterparts. The amazing (unless you're talking about Destiny) Peter Dinklage will be on hand as the fan-favorite Tyrion Lannister, Lena Heady will play Cerci Lannister, Natalie Dormer will be Lena Margaery Tyrell and Iwan Rheon will take on the role of Ramsay Snow. The announcement goes on to tout even more familiar faces in later episodes.
The game will be told in six parts, with the first chapter, "Iron from Ice," set to arrive on the PlayStation 3, PS4, Xbox 360, Xbox One, PC, Mac and iOS "soon."
Staff Writer for CinemaBlend.