Titanfall Expedition DLC Screenshots Reveal War Games Map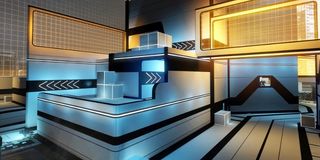 Respawn Entertainment gave a detailed preview of one of Titanfall's upcoming DLC maps. War Games will transport players to a virtual reality simulator based on several maps from the base game.
"When brainstorming ideas for the first Titanfall DLC map pack, the concept of a level in the training mission simulator got a lot of people excited," designer James McCord said on the official Titanfall website. "Designers imagined a level that was smooth, clean and abstract - a perfect place to design easy-to-read battle spaces and wallrun paths. Artists had images of differently themed areas mixed with digital artifacts and colorful lighting. The concept maintained throughout development was "parkour playground."
These clean simulator areas lead to locations that should look familiar to Titanfall vets. The IMC's starting area is a building similar to the "Airbase Sierra" map that shipped with Titanfall. Militia begin in a location that resembles a night-time version of "Angel City." The tower at the center of the map is inspired by "Rise."
"As a designer, I wanted to have the freedom to place wallrun paths wherever I needed them, to connect important areas together," added McCord. "After running around the training mission looking for inspiration, I realized the colored force fields could make a fun wallrunning panel. These are found throughout the map and sometimes stretch across long distances, above battling Titans below.
"These are meant to be obvious paths to help encourage players that haven't embraced this new way of traversing maps. Because of the environment, we even used arrows to help guide players where we wanted them to run."
"War Games" is one of three maps included in Expedition, the first DLC pack for Titanfall. The other two maps have very different appearances than "War Games.""Swamp" takes place in a marsh with remnants of an alien civilization. Less is known about "Runoff" but Respawn said in the past that we should expect a lot of pipes and water.
Respawn will release three DLC packs for the game. They can be bought for $9.99 individually or all together for $24.99. The developers will supplement this premium content with free updates loaded with new modes, burn cards and more.
Expedition will launch sometime in May. I imagine Respawn will release previews of the other two maps in the DLC before the launch.
Image 1 of 7
Your Daily Blend of Entertainment News
Staff Writer at CinemaBlend.