Titanfall Pre-Order Bonuses Don't Include DLC, Beta Keys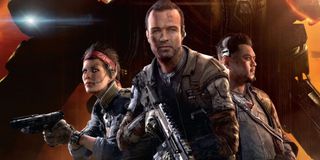 Gamers will be able to pick up a few freebies by pre-ordering Titanfall. You won't miss out anything vital by waiting until after launch to pick up the game, though.
Amazon (opens in new tab) will provide you with a mini guide from Prima. This guide provides a detailed map of one battlefield with all of the points of interests marked. A list of tips and a highlight video are also included.
GameStop (opens in new tab), meanwhile, is giving customers a poster called "The Divide." The poster depicts characters from the Interstellar Manufacturing Corporation and Militia, the two playable factions. They warn that the item's available in limited quantities so it might not be available for later pre-orders.
A couple retailers are also offering discounts on future orders. Best Buy (opens in new tab) customers can get 15% off on the official Prima Guide, and a $10 gift certificate. Microsoft Store (opens in new tab) will give you a $10 gift card toward Xbox 360 or Xbox One game purchases.
Last but not least, Walmart (opens in new tab) will give customers a "First To Fall" patch. They say it's a "tactical patch," which is code for "we're trying to make this patch sound a lot cooler than it actually is." Here's a picture of it:
One thing pre-order customers won't receive is beta access. Respawn founder Vince Zampella says that you won't need to reserve the game in order to play the beta:
Some developers require you to pre-order to get certain DLC or beta access. I'm glad that none of the pre-orders for Titanfall are that important, though. It means that you can wait until reviews come out before you spend $60 on the game. I think it's nice for pre-order customers to get rewarded for putting their faith in the game but no one should feel like they have to pre-order, either.
Titanfall's beta will be coming to the PC and Xbox One soon. The launch date is reportedly February 14th but Respawn has yet to confirm that. Either way, it's going to be released soon because there's only five weeks until the game's release.
Staff Writer at CinemaBlend.
Your Daily Blend of Entertainment News
Thank you for signing up to CinemaBlend. You will receive a verification email shortly.
There was a problem. Please refresh the page and try again.