New Toejam And Earl Game In Development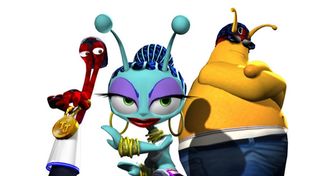 One of the age-old classics from way back in the 16-bit era is making a comeback for today's generation of gamer. That's right, the Toejam And Earl adventures that helped shape the Sega Genesis' run during the early 1990s is making a return to form, soon.
As mentioned over on the official Facebook page for Toejam And Earl, it was announced that a brand new game is in development and that it will be running on a new and improved engine. It's always a good thing when new engine tech arrives because they sometimes bring some interesting new concepts and features to the table that help elevate and advance gaming technology.
As mentioned on the Facebook page...
The next three or four weeks? So essentially around the time of GDC 2015? I know it's often stated that the Game Developers Conference isn't where games get announced, but there are a few exceptions to the rules. Stardock Entertainment, the makers of Galactic Civilization, will also be announcing three new games at GDC this year. Even more than that, Valve has some big plans to drop some exciting news at the event relating to the Steam Machines and the supposedly finished Steam controllers. We've been waiting an extremely long time for that to come to fruition, so it's nice to finally see some headway made there.
As for Toejam and Earl, this series is coming back off a slightly downed note. Toejam and Early III: Mission To Earth wasn't the most well-received game. Even though it scored between 6 and 8 on the Metacritic scoreboard, averaging out at 7 is usually regarded as a "low" score in the world of video game reviews. Some games are scored between 7 and 10, with 7 meaning that the game isn't very good and 10 meaning that the game is awesome.
Unlike the previous two Toejam and Earl titles, the third one on the OG Xbox was a 3D adventure title with two-player cooperative features. It was also the first game in the series that successfully released that branched away from the sprite-based design of the first two games.
Speaking of the first two Toejam and Earl games... they're regarded as two of the very best games from the 16-bit era. Toejam and Early: Panic on Funkatron is easily one of the most inventive, colorful and challenging side-scrolling, adventure platforming games out there. The mix of solid two-player co-op, challenging bosses and some interesting platforming puzzles made it a must-play game.
The newest title will have some pretty big shoes to fill if they plan on successfully branching off what was established in the 16-bit era. However, if the team is simply aiming to make a game that's better than what was accomplished by Visual Concepts Entertainment and Sega on the original Xbox, then they may not have to worry about aiming too high.
Your Daily Blend of Entertainment News
Staff Writer at CinemaBlend.