Tomb Raider Multiplayer Being Developed By Deus Ex Studio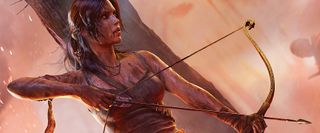 The Tomb Raider reboot will have multiplayer. Crystal Dynamics will not be developing it, however. Instead, they've enlisted another studio in the Square Enix family to handle the online play.
Stéphane D'Astous, the head of Eidos Montreal, announced on Twitter that his studio will develop Tomb Raider's multiplayer. Eidos Montreal is responsible for Deus Ex: Human Revolution and the upcoming Thief 4. Tomb Raider will be their first multiplayer project.
The first hint of Tomb Raider multiplayer came earlier in the week. An online retailer mentioned such a feature. The retailer listing stated that the multiplayer would be team-based, with players taking on the role of Lara's shipmates and murderous salvagers.
This will be the first competitive multiplayer ever seen in a Tomb Raider game. It's bound to be a bit controversial, then. Some long-time fans will think Square Enix trying to turn the series into an everyday shooter to ship more copies. Regardless of their initial feelings on the subject, though, I'm sure most fans will at least be curious what an online Tomb Raider experience would be like.
For more multiplayer details, we'll have to wait for the next issue of Official Xbox Magazine. The mag logged some hands-on time with the online modes and they'll be spilling all the beans. The February issue of OXM should be arriving in subscribers' mailboxes in the coming days. It'll be available at newsstands on January 8th.
Staff Writer at CinemaBlend.
Your Daily Blend of Entertainment News
Thank you for signing up to CinemaBlend. You will receive a verification email shortly.
There was a problem. Please refresh the page and try again.