Transformers: Fall of Cybertron Not Following Movie Direction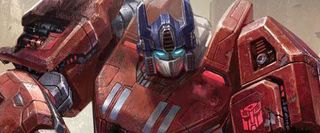 Don't expect Transformers: Fall of Cybertron to look anything like a Michael Bay film. High Moon Studios said the VGA trailer ensured that the game differentiated itself from the film series.
Marketing manager Greg Agius told [a]list that the trailer was inspired due to hoping players would "take a fresh look" at the game, as opposed to considering a movie tie-in.
"We needed to communicate that Fall of Cybertron is an adult oriented game that stands totally apart from anything related to the films," he said. "So the team set out to break every rule we could think of for a Transformers trailer: we had zero voiceover, we destroyed main characters, we made the story come to you, and we picked a song that is totally groundbreaking for this franchise."
"When fans started posting, 'attention – this is how you do Transformers' I knew we had done things right. The style and look is all very in line with what gamers are currently playing."
Agius also talked about what went into bringing Dinobots - which initially wasn't a part of the game - for Transformers: Fall of Cybertron:
"Getting the Dinobots in Transformers: Fall of Cybertron was a labor of love that has paid off handsomely. This game is new canon for Hasbro, and we are working with them to write lore that will stand for future storylines for this multi-billion dollar brand. Our team passionately fought to keep the Dinobots in the lore so that we can have them in our game. And why not?"
"You can't find characters more unique than this! Of course we had to work with them to find a plausible creation story that Transformers fans would accept. We found some inspiration from the old U.K. comics and it provided some excellent ground that players will explore in our story. Playing as Grimlock is fantastic, you just feel super powerful!"
Transformers: Fall of Cybertron is currently scheduled for a release on August 28th in North America and 31st in European territories.
Your Daily Blend of Entertainment News