Turtle Beach Limited Edition Modern Warfare 3 Headsets Announced For Xbox 360, PS3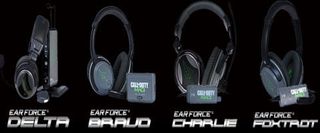 When it's time to game hard and game in-style, there are only a few companies you can turn to that provide unmatched quality and comfort…Turtle Beach is one of those companies. They announced that they've partnered with Activision to release a set of limited edition Call of Duty: Modern Warfare 3 headsets for the Xbox 360 and PS3 and you can grab all the details right here.
Michael Arzt, Vice President of Marketing and Business Development for Turtle Beach commented in the press release, saying…
There are four new headsets announced at different price-points with various features geared toward the poor-arse gamer as well as the "gamer who can afford not to live in his mother's basement". Each headset is also tagged with a nifty little nickname so no matter which one you buy your friends will think you're cool.
Each of these headsets also come on the heels of Turtle Beach's recent high-end headset known as the PX5, which set the bar quite high for both sound quality and microphone output clarity.
You can check out the complete list of the Modern Warfare 3 branded headsets below. Additional details on the peripherals can be found over at the Official Turtle Beach Website. Call of Duty: Modern Warfare 3 is set for release this November for the Xbox 360, PS3, PC, DS and just about every other gaming platform you can think of that hasn't died.
• Ear Force DELTA (EFD) – Call of Duty: Modern Warfare 3-Optimized Programmable Wireless Dolby 7.1 Surround Sound Headset with Bluetooth Chat. The top-of-the-line EFD headset comes packaged in a specially-themed carrying case and is pre-loaded with unique custom Modern Warfare 3 presets and voice prompts. Ear Force Delta is the ultimate Xbox 360 and PS3 weapon for the most avid Modern Warfare 3 players. MSRP: $299.95.
• Ear Force BRAVO (EFB) – Call of Duty: Modern Warfare 3 Optimized Programmable Wireless Universal Gaming Headset. Featuring the same custom Modern Warfare 3 presets as the EFD, the EFB provides players with the same optimized experience in a universal headset that's the perfect Call of Duty companion on Xbox 360, PS3 and PC. MSRP $179.95.
• Ear Force CHARLIE (EFC) – Call of Duty: Modern Warfare 3 Optimized Multi-Speaker Surround Sound PC Gaming Headset. With eight amplified, acoustically-angled speakers delivering discrete surround sound, this tournament-grade, Modern Warfare 3 optimized wired headset is the perfect choice for competitive PC gamers. MSRP $129.95.
• Ear Force FOXTROT (EFF) – Call of Duty: Modern Warfare 3 Optimized Universal Gaming Headset. For Modern Warfare 3 players seeking effortless cross-platform performance, the EFF provides gamers with high-fidelity amplified audio along with several key features to set it apart. MSRP $99.95.
Your Daily Blend of Entertainment News
Staff Writer at CinemaBlend.