Twisted Metal And Starhawk Collide With Sweet Tooth Outcast Skin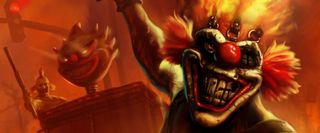 Sony formally announced today that vehicle combat game Twisted Metal has gone gold. They also provided details on some of the bonus content that will ship with the game.
Each copy of Twisted Metal will come with a voucher for the Sweet Tooth Outcast Multiplayer Skin. This skin will be usable in fellow PS3 exclusive Starhawk. You'll have to hang onto that voucher for a few months, though, as Starhawk won't be out until May.
Sweet Tooth, a serial killer who wears clown makeup and drives around in an ice cream truck, is essentially the mascot of Twisted Metal series. Outcasts, in Starhawk, are the violent mutants running amuck on the frontier of space. Put the two together and you've got a crazed alien clown pulsing with rift energy. As you can see in the picture below, he looks quite awesome.
The Sweet Tooth skin is just one of three bonuses you can earn by purchasing the game. If you pre-order, you can get early access to Axel. You'll also get a download code for PS2 game Twisted Metal Black.
Twisted Metal will arrive on February 14th in North America and on the 17th in Europe. David Jaffe, the head of developer Eat Sleep Play, said that a patch will be released for the game on launch day to make some small fixes and tweaks. A demo is also on the way but no word on when we can expect that.
Image 1 of 1