Uncharted 2: Among Thieves Release Date Revealed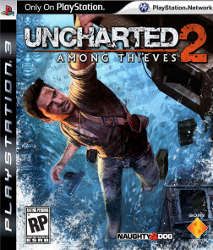 Heavy Rain and God of War 3 won't make it in time for Christmas but another PS3 exclusive, Uncharted 2: Among Thieves, definitely will. Sony announced today that the game hit stores throughout North America on October 13th.
If you're interest in pre-ordering, there's several different deals being offered by retailers. GameStop, as you may already know, offers an exclusive multiplayer demo and "revenge" attribute. Best Buy pre-order customers will get golden Barettas and AK-47s for online play. Amazon will be giving out an exclusive video that shows you where hidden treasures are located throughout the game. Game Crazy, meanwhile, will give you a Currency Multiplier (temporarily boosting your progression in multiplayer) if you reserve a copy with them.
The picture on the right is the final box art for the game. You've undoubtedly seen that shot a few thousand times so no shock there. Now you'll know exactly what to look for in stores, though. Memorize its features.
Staff Writer at CinemaBlend.