Uncharted 4 Writer Amy Hennig Quits Naughty Dog, Reportedly Forced Out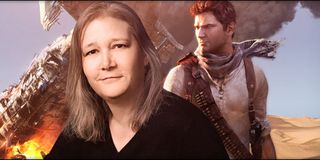 Amy Hennig, writer and creative director for the Uncharted series, has left the company after 10 years. A report suggests that it wasn't an amicable departure.
Hennig was "forced out" by fellow Naughty Dog employees Neil Druckmann and Bruce Straley, according to IGN's sources. Straley and Druckmann were the game director and creative director, respectively, on PS3 survival horror game Last Of Us. The two will reportedly take over the reins on the Uncharted PS4 game currently in development.
Sony, who owns Naughty Dog, reached out to confirm Hennig's departure. Their statement doesn't provide any insight into why she left the company, though.
"We can confirm that Amy Hennig has left Naughty Dog. Amy has made significant contributions to the game industry and we appreciate all she has done for Naughty Dog. The development timeline of Uncharted will not be impacted."
Maybe Hennig or Naughty Dog will give us the truth of what happened in time. In the meanwhile, she struck a positive note on Twitter:
Hennig worked at Naughty Dog for a decade. During that time, she served as director on all three Uncharted PS3 games. Her writing for Uncharted 2: Among Thieves and Uncharted 3: Drake's Deception netted her two Writers Guild of America awards. Prior to the Uncharted series, she also contributed to the studios' Jax and Daxter series.
Those 10 years are an amazing track record on their own. But wait, there's more. She also wrote and directed Legacy of Kain: Soul Reaver, Soul Reaver 2 and Legacy of Kain: Defiance during her time at Crystal Dynamics. You can see why she keeps popping up on those "most influential women in gaming" lists.
Hennig is the second major departure from the Uncharted team since the release of Drake's Deception. Long-time series designer Richard LeMarchand left Naughty Dog in 2012 to pursue teaching.
Uncharted for PS4 was announced at the console's launch event with a teaser trailer. The project's been in development since 2011 so it might be close to completion. Straley and Druckmann seem like good choices to lead the team the rest of the way, as the two played major roles in the development of the first two Uncharted games.
Your Daily Blend of Entertainment News
Staff Writer at CinemaBlend.