Uncharted Lead Designer Leaves Naughty Dog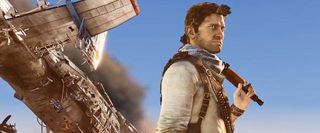 Richard Lemarchand, a long-time member of the Uncharted team at Naughty Dog, has revealed that he's leaving the company. Lemarchand will be joining the School of Cinematic Arts at the University of Southern California.
Lemarchand joined Naughty Dog in 2004. He came there from Crystal Dynamics, where he contributed to the Legacy of Kain and Gex series. He started out his Naughty Dog days on the Jak 3 and Jak X: Combat Racing. He then served as lead game designer on Uncharted: Drake's Fortune, and co-lead on Uncharted 2 and Uncharted 3.
"I was involved with the development of the Uncharted series not quite from the beginning, but almost... and even though the Uncharted series isn't intended to be viewed as a trilogy, maybe there's something about the number three that felt... there is a certain amount of completeness for me," he told Gamasutra.
At USC, Lemarchand will be teaching in the Interactive Media Division. He won't stop designing games, though. As a research project, he'll also create several experimental games.
"I've always loved the experimental and avant-garde. I wanted to try to make a game in that sphere for the best part of a decade, now."
"Some are to do with procedural narrative; some are to do with space and exploration," Lemarchand said of these experimental games. "I've always been very interested in the power of environmental narrative."
Naughty Dog released Uncharted 3: Drake's Deception this fall. They haven't announced a follow-up yet - they're currently working on Last of Us - but Uncharted is a huge franchise so they'll no doubt revisit it eventually. Looks like they'll have to do it without one of the key members of their team, though.
Staff Writer at CinemaBlend.
Your Daily Blend of Entertainment News
Thank you for signing up to CinemaBlend. You will receive a verification email shortly.
There was a problem. Please refresh the page and try again.