Uncharted 4 On PS4 In Development Since 2011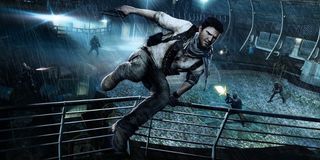 Naughty Dog has been working on their Uncharted PS4 game for awhile. Shuhei Yoshida, president of Sony Computer Entertainment Worldwide Studios, says that the game's been in development for three years.
"After the release of the PS4, the time in which developers are getting accustomed to the hardware is coming. After three years Naughty Dog's work has finally become exciting, isn't it?" Yoshida told Japanese gaming site Inside Games (via PSU).
This means that Naughty Dog jumped into developing the game right after they finished Uncharted 3. Uncharted 3, the most recent console entry in the series, was released on the PS3 in 2011. Naughty Dog helped with the creation of PS Vita launch title Uncharted: Golden Abyss as well but development was headed up by SCE Bend. The main Uncharted team, therefore, has had plenty of time to work on Nathan Drake's next-gen debut.
Naughty Dog announced the next Uncharted on the eve of the PS4's launch. The teaser trailer hinted that the story will take players to Madagascar, one of the locations along Francis Drake's travel route. The trailer also included a cryptic Latin quote: "Today you will be with me in paradise." I'm guessing the paradise is actually filled with monsters and heavily armed mercenaries but we'll see.
We haven't seen any gameplay footage of the PS4 game yet, though. We also don't know if it's even called Uncharted 4. We just call it that for lack of a better working title.
The three years of development gives me hope that Naughty Dog is close to showing off more of the game. The three Uncharted PS3 games were released two years apart, with the first game taking Naughty Dog three years. Assuming that there are no major issues with development, Naughty Dog should have made significant progress on Uncharted 4 by now.
It's possible that Sony and Naughty Dog will wait until E3 2014 to share news on Uncharted PS4. Still, you'd think they would want to reveal gameplay footage as early as possible. There are still millions of PS3 owners who haven't upgraded to a PS4 yet. The next Uncharted could be the game that makes them finally pull the trigger on a PS4 purchase. These gamers already know Uncharted 4 is in development but gameplay footage or a release window could make the project seem more real.
There are two development teams at Naughty Dog. It's unclear what the second team is working on. It's possible that they'll make a PS4 version of Last Of Us. However, they're also considering sequels or a brand new IP.
Your Daily Blend of Entertainment News
Staff Writer at CinemaBlend.