Uncharted Waters Online Free Cash Shop Pack Giveaway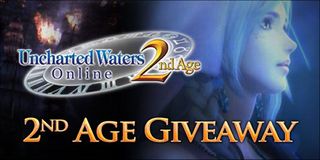 Uncharted Waters Online is entering the "2nd age" and distributor OGPlanet wants people to come play the game, for free of course. They also want to entice people by offering up free content as well. It's almost like getting paid to play the game.
The company originally acquired the nautical, sea-faring game last year. They relaunched the game to some modicum of success (obviously, otherwise they wouldn't be able to give away free cash shop codes I'm guessing).
To help grow their community and keep the wheelhouse of ever-changing MMOs cycling in new players, OGPlanet sent us over some free promotional codes to give out to you... our loyal readers.
So what's the catch? Whose soul do you have to sell? Whose banana do you have to eat? Whose cookie do you have to munch? Thankfully, no ones (unless you were really looking forward to that, eh?).
Over on the official Utopia wire website they let be known that the 2nd Age expansion is live, and those who would like to partake in the adventure can do so right now.
The expansion features brand new ships that have been "modeled afrom famous historic ships", including the Privateer that was used to pimp the great eastern seas by Sir Francis Drake. New missions have been added and player-ran elections are now implemented, so that player-chosen characters can be elected to govern the virtual land. Nifty. It's like TERA but without the awesome graphics and the shapely boob physics.
Of course, no one cares about any of that stuff and I'm not here to peddle anything other than free cash shop codes. So here's how this all works.
Redemption Instructions:
1. Sign up for an OGPlanet account and download the OGPlanet Game Launcher
2. After installing the OGPlanet Game Launcher, Follow the prompts in the Launcher to download/install Uncharted Waters Online
3. Once Uncharted Waters Online is installed, login to the game and create your character
4. Go to the Redemption Page and enter your coupon code
5. All in-game prizes will be awarded on February 5th, 2014. If you have redeemed your key code after February 5th, you will receive your in-game items on February 19th, 2014.
You can grab the coupon/promo code from Gaming Blend's Official Facebook Page, so be sure to like the page so you'll be able to grab a key. You can also request one by messaging us on the page. Keep an eye out as we'll be posting codes periodically for the game.
If you're a Honey Badger and you feel you don't need free cash shop items to own up in the game, you can just go ahead and start playing without a promo code. We don't stand in the way of Honey Badgers. You can check out some footage of the game below to get an idea of what it's like, courtesy of cisjay.
*Note(s):
*All key codes will expire on April 23rd, 2014
* Only one 2nd Age Welcome Package can be redeemed per OGPlanet account
* You must have a character in Uncharted Waters Online to receive your free in-game items
Staff Writer at CinemaBlend.
Your Daily Blend of Entertainment News
Thank you for signing up to CinemaBlend. You will receive a verification email shortly.
There was a problem. Please refresh the page and try again.