Unreal Tournament 3 Titan Pack Delayed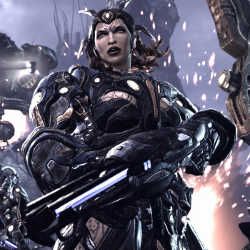 A massive content update for Unreal Tournament 3 was supposed to be released for the PS3 and PC versions tomorrow but PS3 players will be wearing their best "kid whose parents forgot to pick them up from soccer practice" look. It seems the Titan Pack's been delayed for them.
"Unfortunately, due to circumstances out of our control, the certification process for the PS3 patch and DLC has taken much longer than we expected," said Epic's Steve Polge on the official UT forums. "As a result, we have been forced to push back the release date for the PS3 version to 3/19."
"The PC patch contains updates that will improve mods cooked for PS3, so we'll be taking advantage of this extra time to work with mod authors to make sure the best mods for UT3 are cooked with the latest patch," adds Polge.
The Titan Pack, announced in February, adds new vehicles, weapons, and maps. According to Epic, it won't be released for the Xbox 360 version of UT3 because some of the content was already included with the 360 version and it's also too big for Xbox Live.
Staff Writer at CinemaBlend.