Video Game Hall Of Fame Finalists Announced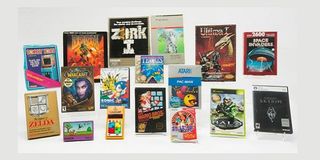 The Strong World Video Game Hall of Fame has announced finalists for the 2015 induction, narrowing down the list of nominees to a mere 15 games being considered for inclusion in the prestigious lineup. Including everything from Doom to Angry Birds, this year's list of potential hall-of-famers runs the gamut and should provide good fodder for some interesting debates.
While Strong has not provided word on how many games will actually make the cut, the current list has been narrowed down to a mere 15 titles from throughout history, all of which are heavy hitters for the world of video games. The winning games will be announced during a special ceremony at the Strong Museum on Thursday, June 4.
As mentioned above, the hugely popular mobile game Angry Birds makes the list, along with potentially one of the most important shooters of all time, Doom. Sports fans will be happy to see the original FIFA make the top 15, while The Legend of Zelda represents RPGs proudly.
It wouldn't be a best games of all time list without Minecraft being part of the discussion, as well as the only game many of us were actually allowed to play at school, The Oregon Trail.
One of gaming's OGs, Pac-Man is in the running, alongside the title that started it all, Pong. You can also find Pokemon hidden in the lineup, right alongside The Sims.
A showdown nearly as old as gaming itself, both Super Mario Bros. and Sonic the Hedgehog are on the short list, alongside Space Invader, Tetris and World of Warcraft.
According to the official rules, nominations were gathered through March 31 before narrowing the field down to just 15. To be included in the final listing, a game needed to meet four major criteria including icon-status (widely recognized and remembered), longevity (popular over time), geographical reach and influence. Going over the final list, it's easy to see why every single one of those games have been included for consideration. In fact, I'd be hard-pressed to explain why one would deserve a place in the Hall of Fame over the other. They're all industry legends, each one having a massive impact on gaming in one form or another.
Pong got the ball rolling, for instance, but you could argue that Pac-Man was the game that truly made video games a household term. Then again, I wouldn't fault you for crediting Mario Bros. for solidifying gamings place in the household, or World of Warcraft for turning so many people into diehard fans.
While keeping in mind that there are no wrong answers (so let's keep it classy, folks), we'd be interested to hear your thoughts on the Hall of Fame candidates. Which game do you think should be a definite inclusion and why?
Your Daily Blend of Entertainment News
Staff Writer for CinemaBlend.