FIFA 14 Gets Free World Cup Update Next Week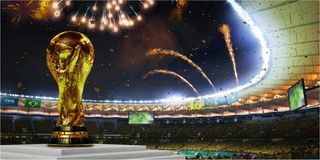 The World Cup season is heating up and, to celebrate, Electronic Arts has announced EA Sports FIFA 14 Ultimate Team: World Cup, a brand new (and free!) expansion set to give players the virtual experience of the 2014 FIFA World Cup in Brazil.
Set to release on May 29 for PC, Xbox 360, Xbox One, PlayStation 3 and PlayStation 4, players' copies of FIFA 14 are about to get even better, bringing the most legendary tournament in the world to your footy game of choice.
The Ultimate Team: World Cup mode will be provided as a separate mode within the game, giving players the chance to build their "ultimate squad" of athletes from all 32 national teams that will be attending this year's tournament in Brazil. Players should expect the authentic World Cup feel here, including every team's crest, the official Adidas Brazuca match ball, World Cup team kits (jerseys for us yanks), the Estadio do Marcana stadium to host matches in and all sorts of other soccertastic bits and baubles.
"Players can improve their team to make them tournament contenders by acquiring new players and consumables from special Packs in the FIFA 14 Ultimate Team: World Cup Store," reads a press release from EA. "Every FUT World Cup Pack includes a free Gold Pack available for use in the traditional FIFA 14 Ultimate Team experience."
It's a bit of for-pay content that you don't technically need to take advantage of. Also, when the rest of the World Cup content is coming your way gratis, it's hard to begrudge this type of mild pay-to-win content, especially if you don't absolutely need to buy said content. I'm of the mind that I'd rather pay a few bucks for the expansion and have it include a normal player progression system but, hey, I suppose this way works too.
According to EA, players of the new mode will also have a chance to "write football history," but I doubt they're talking about a new gig chronicling the events of this year's games for their website...Though that might actually be pretty cool, too.
"With online and single player tournament modes, players can compete through the group stage and knockout phase in order to win the FIFA World Cup," reads the statement from the publisher. "By winning matches, players will earn in-game virtual coins that can be used to acquire packs in the FIFA 14 Ultimate Team: World Cup Store to strengthen their squad. Fans can increase squad chemistry by finding and playing with players from the same country or governing confederation."
So there you have it: World Cup excitement for everyone! Well, everyone who has the latest version of FIFA, that is.
Your Daily Blend of Entertainment News
Staff Writer for CinemaBlend.