Villagers And Heroes Free Halloween Gift Pack Giveaway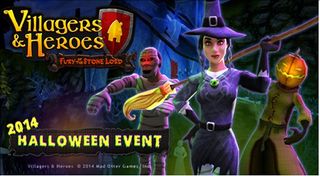 Mad Otter Games wants gamers to get into the spirit of Halloween by opening an account and playing the free-to-play MMO called Villagers & Heroes, a casual World of Warcraft style clone. How will they tempt you to play the game? How about with some free cash shop goodies?
The PR sent out a batch of codes for a free starter pack to help gamers get some decent footing in the MMO and hit the ground running.
The game has been updated to accommodate the celebration of Halloween and they have dazzled and spruced up the game's environments to reflect the spookiest time of the year.
For those of you who have no idea what this game is actually about and why you should care, the general gist is described in the press release as such...
If the description above comes across as generic and you still have absolutely no idea what Villagers & Heroes is about, there's at least a decent trailer that further helps explain the game. Well, technically it just visually puts into perspective the very same description you just read above. Check it out below.
All right, so now that we've firmly established what Viallgers & Heroes is, I'm sure you're now curious about getting your hands on some of those starter pack gifts, eh?
You get exclusive starter gear for whatever class you decide you want to play, a cosmetic appearance pack for your character that enables you to look stylish and hip, an extra bag space buff for 30 additional item slots in your backpack, and a smorgasbord of potions for health, spirit and Gnogmenting sockets.
If you're already playing the game and you figure you want to create a new character on a new account and get some goodies, this might be a smart way of getting a good start in the game. Alternatively, if you've never played (or heard of) Villages & Heroes, you can hop right in with some free gear just for the heck of it.
You can redeem the codes by following the instructions below.
1.) Head to Gaming Blend's Facebook page where we'll be posting codes periodically.
2.) Launch the Steam client software and log into your Steam account.
3.) At the very top of the Steam Client, Click the "Games" Menu.
4.) Choose "Activate a Product on Steam…"
5.) Follow the onscreen instructions to complete the process.
If you still need to learn more about the MMO game and you're kind of leery because you don't like taking unresearched risks, feel free to grab more info by paying a visit to the official website.
Your Daily Blend of Entertainment News
Staff Writer at CinemaBlend.