Virtual Console Gets Pitfall: The Mayan Adventure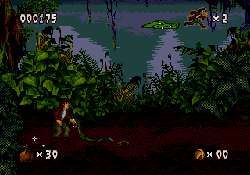 Nintendo announced today that they've released two new games to DSiWare and one game apiece to Virtual Console and WiiWare. Headlining the batch of new games is Sega Genesis platformer Pitfall: The Mayan Adventure:
DSiWare
Mixed Messages (500 DSi Points): "Mixed Messages is the hilarious party game of mixed-up miscommunication. Sketch a picture to capture your friends' sentence, or try to figure out what in the world they've drawn. You might start with, "The quick brown fox jumps over the lazy dog" and end up with "A crazy surfer outruns flying sticks of dynamite while his fans cheer!" Two to 21 players take turns writing sentences and drawing pictures to pass along a message. This isn't a game about winning and losing - it's all about the funny miscommunications that happen along the way. You'll laugh when you see just how wacky things can get. Get together with your friends and mix it up."
Master of Illusion Express: Shuffle Games (200 Nintendo DSi Points): "Master of Illusion Express titles are mind-boggling magic tricks pulled from the popular Nintendo DS game. Learn the illusions, practice up and amaze your friends. Master of Illusion Express: Shuffle Games will boggle your audience members' minds as they try to figure out how you know exactly what they're thinking. Also included is the bonus Vanishing Card trick, which the Nintendo DSi system performs for your enjoyment."
WiiWare
Party Fun Pirate (500 Wii Points): "Based on the popular Pop-Up Pirate toy, players take turns thrusting swords into a barrel that holds your captain captive, trying to see who can insert the most swords into the barrel. Thrust a sword into the wrong hole and you'll send your captain flying, which means it's game over for you! Unique Wii features add to the excitement, making for a fun-filled party game. Try swapping out the captain and putting your custom Mii character in the barrel for some real laughs!"
Virtual Console
Pitfall: The Mayan Adventure (800 Wii Points): "Pitfall: The Mayan Adventure is a side-scrolling action game in which you play adventurer Pitfall Harry Jr. in search of his father, Pitfall Harry. Pitfall Harry has been taken captive by the dreaded warrior spirit Zakelua: Lord of Evil. Armed with only a trusty sling and his father's journal, young Harry Jr. must now venture into the unknown to rescue him … before it's too late! Bungee jump and boomerang your way to safety as you battle through treacherous Mayan jungles, waterfalls and deserted mines. With 13 levels of fast, gripping action, you will need to be attentive and quick - or prepare to die …"
DSi Points have the same conversion ratio as Wii Points: $1 for every 100 Points. You can buy Nintendo Points Cards at retail stores or online. When purchasing Nintendo Points, you must choose whether they'll be used for the Wii or DSi.
Your Daily Blend of Entertainment News
Staff Writer at CinemaBlend.