WWE 2K16 DLC Includes Rowdy Roddy Piper And Other Legends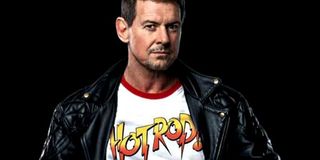 2K announced today that they've got an extensive DLC schedule planned for WWE 2K16. The game's downloadable content will introduce loads of characters to the game's already sizable roster.
While there are a few NXT stars in the mix, the DLC is definitely slanted toward Hall of Famers. You can get Rowdy Roddy Piper, Dusty Rhodes, Big Boss Man and many other past superstars. The Hall of Famer Pack also lets you relive many classic showdowns from through WWE history.
The developers are also throwing in some shortcuts. The MyPlayer KickStart gives PS4 and Xbox One owners extra bonuses for their custom superstars. The Accelerator will let you immediately access all unlockable content in the game.
Here's the full list of downloadable content that will be released for the game through late 2015 and early 2016. While they can be purchased individually, you can also get them all at once as part of the $24.99 Season Pass:
Accelerator ($1.99) -Players will gain instant access to all unlockable content available in the game (excluding downloadable content).
MyPlayer KickStart ($9.99, PS4 and Xbox One only) - Players will gain instant access to boost created Superstar ratings and attributes in the game's MyCareer mode.
Legends Pack ($8.99) - Playable WWE Legends: Big Boss Man, Dusty Rhodes, Lita, Mr. Perfect, "Rowdy" Roddy Piper and Trish Stratus;
2015 Hall of Fame Showcase ($9.99) - Playable matches:
"Macho Man" Randy Savage vs. Jake "The Snake" Roberts;
Rikishi vs. The Rock;
Alundra Blayze vs. Paige;
Larry Zbyszko vs. Arn Anderson;
Tatsumi Fujinami vs. Ric Flair;
The Bushwhackers (Butch Miller and Luke Williams) vs. The Natural Disasters (Typhoon and Earthquake);
The Outsiders (Kevin Nash and Scott Hall) vs. Harlem Heat (Booker T and Stevie Ray);
The 2015 Hall of Fame Showcase will be available for a suggested price of $9.99.
New Moves Pack ($3.99) - More than 30 new moves, including the Corner Enzuigiri (made popular by WWE Diva Nikki Bella), Avalanche Ram (made popular by WWE Diva Paige), Sidewinder Suplex (made popular by WWE and NXT Superstar Kevin Owens), Standing Crossface Chickenwing (made popular by WWE Superstar Stardust) and Dragon Sleeper (made popular by NXT Superstar Finn Bálor);
Future Stars Pack ($7.99) - Playable NXT Superstars: Samoa Joe, Diego, Fernando, Blake and Murphy;
Digital Deluxe Editions of WWE 2K16 are available for pre-order now through PSN and Xbox Live. The Xbox 360 and PS3 versions are priced at $79.99 and come with a copy of WWE 2K16 and the Season Pass. The PS4 and Xbox One editions are $10 more expensive and also come with the MyPlayer KickStart mentioned above. The PS3 and PS4 Digital Deluxe Editions also come with a theme for their respective console.
WWE 2K16 will launch in North America on October 27th and in Europe on the 30th.
Staff Writer at CinemaBlend.
Your Daily Blend of Entertainment News
Thank you for signing up to CinemaBlend. You will receive a verification email shortly.
There was a problem. Please refresh the page and try again.