WWE SmackDown Vs Raw 2010 Full Roster Revealed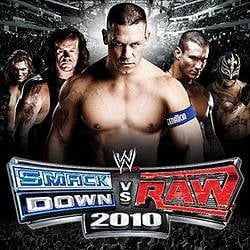 Today the full list of playable characters for WWE SmackDown vs. Raw 2010 was announced. The roster, unveiled through a live video draft on Gamespot just a short while ago, is split up into four categories below.
Raw Superstars
Santino Marella
Shawn Michaels
Randy Orton
Primo
Cody Rhodes, Jack Swagger
Triple H
JBL
Mr. Kennedy
Big Show
Evan Bourne
Carlito
John Cena
Ted DiBiase
Festus
Chavo Guerrero
Mark Henry
Kofi Kingston
The Miz
MVP
SmackDown Superstars
Batista
Edge
Finlay
The Great Khali
Matt Hardy
Chris Jericho
Jesse
JTG
Kane
Mike Knox
John Morrison
Rey Mysterio
CM Punk
R-Truth
Shad
Undertaker
Dolph Ziggler
Jeff Hardy
The Brian Kendrick
Umaga
ECW Superstars
Shelton Benjamin
Christian
Tommy Dreamer
Goldust
Ezekiel Jackson
Vladimir Kozlov
William Regal
WWE Divas
Brie Bella
Nikki Bella
Eve
Mickie James
Kelly Kelly
Gail Kim
Maria
Maryse
Michelle McCool
Melina
Natalya
Beth Phoenix
SmackDown vs. Raw 2010 will be released in North America on October 20th and October 23rd in Europe.
Staff Writer at CinemaBlend.
Your Daily Blend of Entertainment News
Thank you for signing up to CinemaBlend. You will receive a verification email shortly.
There was a problem. Please refresh the page and try again.