Red Dead Redemption 2 Is Definite Possibility, Take-Two Says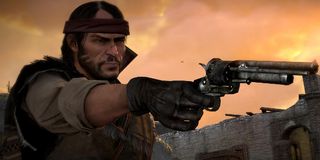 Red Dead Redemption earned great sales and reviews in 2010 but Rockstar has yet to announce a sequel. That doesn't mean that Red Dead Redemption 2 isn't in the works, though.
During a Cowen and Company analyst conference (via GameSpot), Take-Two CEO Strauss Zelnick said that the Red Dead series won't end with two games. He feels that it's a "permanent franchise."
"I pretty much know the ones that I can assure you are permanent. It's obvious that GTA is a permanent franchise as long as we keep delivering this incredible quality; it seems quite obvious that Red Dead is a permanent franchise, again with the same caveat, or Borderlands, for example, and NBA and others," Zelnick added. "But not everything is going to be a permanent franchise. We can do very well even if it's not. I would like to see us grow with a couple more great franchises in the next couple years and we're launching Evolve; we have very high hopes for that."
Zelnick has used the phrase "permanent franchise" when talking about Red Dead before. He said it in an earnings call last summer.
"And it's been our goal not just to preserve and grow the Grand Theft Auto franchise, but also to build other franchises that we think can be permanent, whether that's the Red Dead franchise or the Borderlands franchise or the BioShock franchise or others, Civilization for example."
Rockstar San Diego seemed to be staffing up for Red Dead Redemption 2 in 2012. However, those extra personnel could've been for GTA 5. They helped Rockstar North with that project, just as Rockstar North helped with RDR.
Red Dead Redemption sold over 13 million copies on Xbox 360 and PS3 as of February 2012. Its Metacritic score sits at 95 right now. Red Dead Redemption 2, or whatever they'll call it, seems like a foregone conclusion.
The biggest barrier to Red Dead Redemption 2 is probably Grand Theft Auto. While RDR received great sales and reviews, they were dwarfed by the commercial and critical success of GTA 4 and GTA 5. Any new Red Dead game takes away time and resources that could be spent on, say, GTA 6 or new content for GTA 5.
Still, at this point Take-Two seems to have recognized that each new GTA does so well in sales is that they take their time with sequels. They don't just spit out a new one each year. The developers take their time to polish up the game and let the anticipation build among the fanbase. Plus, the microtransactions for GTA Online and upcoming single-player DLC for GTA 5 are lucrative enough that they don't need to rush out GTA 6. They could release Red Dead Redemption 2 during the long wait for the sixth GTA.
Take-Two said earlier this month that Rockstar will release a game on next-gen consoles by March 2015. There's some hope among gamers that this project is either Red Dead Redemption 2 or the long-delayed Agent. However, it seems more probable that this mystery game is merely PS4 and Xbox One ports of GTA 5.
Staff Writer at CinemaBlend.