War Thunder Update Adds 20 Planes, 8 Maps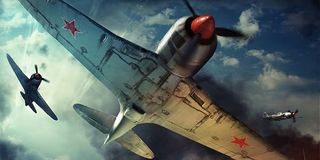 War Thunder's latest update, 1.37, has taken to the skies, offering players a swarm of new planes to control, new maps to explore, a new progression system to unlock and basically just more of what makes this aerial combat game so much fun in the first place.
War can be an ugly business. That is unless, of course, your war is being carried out from the safety of a virtual cockpit soaring high above the fields of battle as you try to bring down enemy crafts and scrub the bogies trying to sneak up behind you.
In War Thunder, players take control of virtual WWII-era planes and hit the clear blue yonder in a quest for aerial dominance. Coming from Gaijin Entertainment, this free-to-play war game is available on PC and PS4 in Europe with the US PS4 launch expected...well...at some undetermined point in the future that I would classify as "not soon enough." I'm kind of itching to play this one, if you couldn't tell.
With update 1.37, Gaijin is introducing a whole bunch of new content and a few new systems to the game, just in time for the upcoming "ground" update that will throw tanks into the mix. A "water" update is also in the works, which will complete War Thunder's initial plan to bring combat to players on all fronts.
"This major update introduces more than 20 new aircraft, including the long-awaited Ki-84 Japanses fighter and German attack plane HS.129B-3, featuring an enormous 75-mm cannon," reads the update announcement from the publisher. "With the release of update 1.37, more than 300 historically accurate aircraft are now available in War Thunder."
Holy crap, that's a lot of planes. If you're looking to take them out for a spin, then maybe you'd be interested in the eight new maps being added in this update, as well as DirectX 11 support to give all existing maps a graphical upgrade.
Finally, the game now offers a new progression system for players to explore, giving them more freedom to choose the aircraft they want to unlock upon leveling up.
"This allows players to progress more quickly through the branch of the research tree they prefer," explains Gazillion. "At the same time, both new and existing players will keep their achievement, earned modifications and previously purchased planes."
For those of you eagerly anticipating a chance to drive around in tanks, too, Gazillion has announced that it is preparing to open up the second wave of closed beta testing following the release of Update 1.37, moving the game one step closer to having some rolling thunder wreaking havoc on the ground.
For more details or to get in on the action, head on over to the War Thunder official site. (opens in new tab)
Staff Writer for CinemaBlend.
Your Daily Blend of Entertainment News
Thank you for signing up to CinemaBlend. You will receive a verification email shortly.
There was a problem. Please refresh the page and try again.