The War Of The Worlds, Survival-Platformer Coming This Summer To PSN, XBLA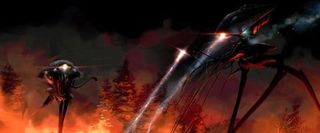 It's not often that we get survival-platforming games but Other Ocean Interactive is doing just that, following on the tails of their previous side-scrolling platforming games such as Castlevania: Symphony of the Night and Dark Void Zero. The indie developer announced today that the famed novel from sci-fi author H.G. Wells will debut as an action platform title on the PSN and XBLA this summer.
Mike Mika, Head of Development with Other Ocean Interactive commented in the press release, saying…
I really, really wish we had more original titles like the ones that Other Ocean works on. There are so many different possibilities available with the technology currently flooding the marketplace yet it seems too many games are rehashes of the same thing. I'm just glad this isn't some mundane third-person shooter with lazy graphics and bland shooting mechanics. That would have been awful.
Anyway, the game itself will put players in a 1950s London as they attempt to get out of the city alive, all while invading aliens tear the place to shreds. The game incorporates some puzzle-like gameplay elements with survival-platforming mechanics, as a devastated London comes crashing down around the player.
I'm definitely looking forward to hearing and seeing more about this game. The War of the Worlds is set for release on the PlayStation Network and Xbox Live Arcade this summer. For more info, feel free to visit the Official Website.
Your Daily Blend of Entertainment News
Staff Writer at CinemaBlend.