Warhammer 40K: Space Marine Dreadnought DLC Coming In January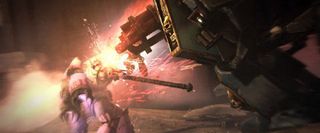 It appears that the new year will bring new downloadable content for the third-person action game Warhammer 40,000: Space Marine. Developer Relic Entertainment just released an teaser image and hinted that DLC would be arriving in January.
"We have a big metal surprise coming to @SpaceMarine in January – Merry Christmas from Relic!" reads a tweet from the official Space Marine Twitter account.
The image shows a Space Marine battling a Dreadnought. Dreadnoughts are combat mechs used as infantry support. They're piloted by Marines on the brink of death. These Marines are kept alive by the mech's life support systems, and remain within the machine until it is destroyed.
How will this Dreadnought be utilized in the game? Well, many companies are closed for the holidays so it's possible we'll have to wait a couple weeks before we find out the particulars. Would be nice if Relic announced something next week, though, as there's always a news void during those days.
Image 1 of 1
Staff Writer at CinemaBlend.
Your Daily Blend of Entertainment News
Thank you for signing up to CinemaBlend. You will receive a verification email shortly.
There was a problem. Please refresh the page and try again.