Watch Dogs DLC Season Pass Introduces Cyborg Mode, New Single-Player Story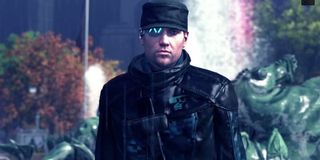 Ubisoft revealed today that they're going to offer a $19.99 Season Pass for Watch Dogs' downloadable content. The open-world hacking game's set to receive several pieces of single-player DLC after the game's launch.
Watch Dogs's DLC will introduce a new playable character with his own campaign. T-Bone is described as a "brilliant but eccentric hacker who lives by his own rules." I figured hackers were, by definition, averse to rules but maybe T-Bone here is more anti-authoritarian than average.
Another DLC pack will introduce the "Conspiracy" game mode, in which players hunt cyborgs throughout the city. The mode reminds me a little of Blood Dragon, the standalone mod for Far Cry 3 inspired by 1980's action movies. "Conspiracy" is one of several Digital Trips planned for the game, each offering an arcade-like experience with a sci-fi or fantasy twist. The Spider-Tank gameplay video is one example of a Digital Trip. These Trips serve as a light-hearted breather from the serious police state storyline of the main campaign.
If you want to continue your journeys with main Watch Dogs protagonist Aiden Pearce, you'll be able to do that too. Ubisoft mentions they're adding new single-player missions to the game along with unlockable weapons and outfits.
The Season Pass is at least 25% cheaper than buying the DLC packs individually. That's not the only perk of the Pass, though. Ubisoft is also throwing in an exclusive Untouchables Pack. The Untouchables DLC pays tribute to the gangster movie of the same name by giving players a 1920's suit along with an M1 submachine gun. The outfit and weapon essentially turn Aiden into a Prohibition Era gangster.
Watch Dogs will launch worldwide on May 27th for PS3, PS4, Xbox 360, Xbox One and PC. The Season Pass will be offered on all five platforms. There's no mention of the Wii U, presumably because that version's not even dated yet.
Image 1 of 6
Your Daily Blend of Entertainment News
Staff Writer at CinemaBlend.