Watch Nintendo's E3 2014 Conference Right Here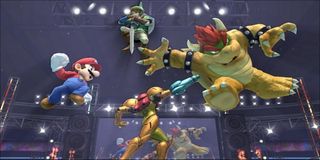 Nintendo is rolling out all their big guns at this year's E3 in another unconventional manner. This time around things are a little different, though, the Big 'N' is fighting to stay relevant in an eighth-gen console race that's attempting to move onward and forward without them.
Today, Nintendo will make or break their legacy for the Wii U with a roll out of some big announcements due to drop for the Wii U this fall as well as a roadmap of games set for release in the coming years.
Gamers are expecting to see hard-hitting games to make an appearance, including more footage of Super Smash Bros, which will also be available starting today at select Best Buy stores across North America, as well as the highly anticipated game from Monolith Soft called 'X' – a game that has been garnering all sorts of silent hype leading up to bigger and better reveals – and the most requested game of E3 next to The Last Guardian... The Legend of Zelda U.
One of the big games on showcase is Super Smash Bros for the Wii U. We learn that the game includes brand new Mii Brawlers that span three different classes and up to 32 different special moves. The game will also feature some brand new modes and features – too many to list here – that allow players to participate in all kinds of different play options and experience brand new mechanics only available on the Wii U.
In addition to this, Smash Bros. will feature new NFC with figurines, very much like the Skylanders games, enabling users to place figurines on the GamePad and have the data read into the game. Alternatively, data can be transferred to the figurines, enabling users to take the figurine with them and transfer the data to any other Wii U console. These figurines are called #amiibo. You can purchase these amiibo for more than just Super Smash Bros., the amiibo will be compatible with a number of games on the Wii U starting this fall.
You can tune in right here at Gaming Blend to get the full rundown on all things Nintendo, just as they happen, live.
For more information on all our coverage for this year's E3, be sure to check out our full E3 2014 database.
Staff Writer at CinemaBlend.
Your Daily Blend of Entertainment News
Thank you for signing up to CinemaBlend. You will receive a verification email shortly.
There was a problem. Please refresh the page and try again.