What The Battlefield 1 Collector's And Deluxe Editions Will Include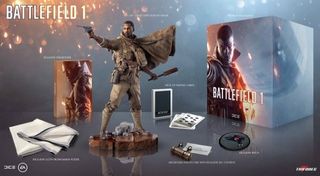 You can basically chalk up your entire weekend to being little more than a collage of Battlefield 1 news, because DICE and EA are making darn sure that everyone knows about their World War I first-person shooter. With that said, they recently unveiled the Collector's and Deluxe Editions of the game.
Following up on the pre-order bonuses (which are separate from the special editions), Gamespot detailed both the Deluxe and Collector's Editions for Battlefield 1.
For the Deluxe Edition, which is being called the Early Enlister, you gain access to the game early on starting October 18th ahead of the game's October 21st worldwide release date. You get the Hellfighter DLC pack, the Lawrence of Arabia pack, and five Battlepacks. One of the more exciting inclusions is the Red Baron Pack; I imagine the Red Baron pack will include the iconic, red Fokker III tri-plane that Manfred von Richthofen flew during World War I.
Over on the official Battlefield buy page they don't exactly detail what's included in each pack, only that you get those aforementioned packs in the Early Enlister Deluxe Edition for the Xbox One, PS4 and PC for $79.99.
Gamespot also rolled out some details on Battlefield 1's limited Collector's Edition, which contains an exclusive 14-inch statue of the cover art character who happens to be one of the game's main characters, a Harlem Hellfighter. The story will apparently revolve around these Harlem Hellfighters, who happened to be a real life fighting infantry during World War I.
According to the article the Hellfighter is caring a Mauser C96 German pistol and an infantry-ready trench mace. When DICE said that they would have melee weapons play a prominent role in Battlefield 1, I was expecting clubs, shovels and maces... but I was not expecting an arm-length mace with spikes in it. That thing looks freaking dangerous. During the announcement trailer we only learned about some of the melee weapons that would be in the game, and they focused mostly on standard clubs, spaded shovels and Arabian sabers. However, as the Collector's Edition statue reveals, gamers will be able to get their hands on some seriously barbaric looking melee weapons, presumably so that they can go medieval on the enemy.
There's more to the Collector's Edition of Battlefield 1 than a 14-inch statue. The pack will also include the Deluxe Edition of the game and all of its contents, an exclusive steel book, a cloth poster, a patch, a deck of playing cards for those long commutes, and a messenger pigeon tube with "exclusive" DLC. All of this comes jam packed in the big 'ole box you see in the main image at the top of the article.
I'm not big on pre-order bonuses and special editions, but I have to give props where props are due: the Battlefield 1 limited Collector's Edition looks good and has a ton of content in it.
You can grab the Collector's Edition for $220. It'll be available in limited supply so if you don't pre-order it don't expect to find many available when Battlefield 1 launches on October 21st later this year for the Xbox One, PS4 and PC.
Your Daily Blend of Entertainment News
Staff Writer at CinemaBlend.