What The New Elder Scrolls Online DLC Will Include And When You Can Get It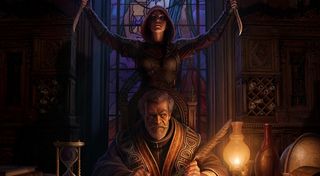 ZeniMax Online and Bethesda have some new content planned for the MMO The Elder Scrolls Online. It's called The Dark Brotherhood and is scheduled to come out on May 31 for PC and Mac, with the Xbox One and PS4 editions to follow a month later in June.
Gamespot is reporting that Bethesda has some new DLC inbound called the Dark Brotherhood where gamers will join a guild of assassins, carrying out missions for the group while learning more about how they operate. According to the article, you could join the group and participate in guild-exclusive missions in The Elder Scrolls IV: Oblivion as well.
Gamers will be able to pick up a digital copy of the Dark Brotherhood expansion pack for 2,000 virtual crowns or they will get it free if they have an ESO Plus membership subscription, which is $15 a month. If you don't plan on subscription to the game you can purchase the new expansion individually by paying for crowns, they come in packs that range from 750 ($8), 1500 ($15), 3000 ($25), and 5500 ($40). What's interesting is that if you want the new expansion you'll either have to get a 750 and 1500 pack of crowns, or you'll have to get the 3000 pack of crowns. So no matter how you cut it, if you aren't subscribed you'll have to pay a lot more for the Elder Scrolls Online's latest expansion if you wanted to buy it separately without becoming an ESO Plus member.
The description mentions that players will have an all new passive skill-line, opening up new abilities for those donning the title of an assassin. I imagine this means more stealth bonuses, new silent takedowns and possibly more ways to avoid detection?
Over on the official Elder Scrolls Online website they roll out more details about the upcoming update, where gamers will be able to explore the new Gold Coast location. There will be new quests and side-quests available throughout old Tamriel locations. New repeatable activities for members of the Brotherhood have also been added, including bounty quests, contract kills, and sacrament quests.
Many of the missions described in the Elder Scrolls Online expansion sound very similar to the kind of tasks you might find in Assassin's Creed, which is cool if you're into that sort of thing. These kind of quests were also present as far back as Elder Scrolls III: Morrorwind, just without all the assassin-specific passive skills.
It's not just about taking on repeatable assassination quests, though. They've added in hours worth of story-related content, as well as two new dungeons, two new bosses and a whole new set of crafting properties for Assassins.
In addition to all the new content they're adding with the Dark Brotherhood, they're also fixing and improving a lot of the standard features in the base game of Elder Scrolls Online, including Cyrodiil performance enhancements, balance improvements to the combat and improved item sets.
There's a long list of changes, updates, upgrades and improvements listed over on the official website. The Dark Brotherhood expansion is available now in the public test service, but will officially launch for as a premium package on May 31st on PC and Mac, with the PS4 and Xbox One versions due to release on June 14th, right during the E3 festivities.
Staff Writer at CinemaBlend.
Your Daily Blend of Entertainment News
Thank you for signing up to CinemaBlend. You will receive a verification email shortly.
There was a problem. Please refresh the page and try again.