Why Sony Sold PlanetSide 2 And H1Z1's Developer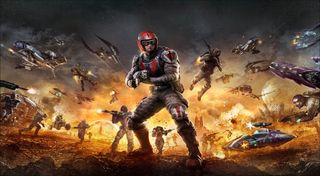 There have been a lot of talks and chatter surrounding the demise of Sony Online Entertainment in place of the Daybreak Game Company. Well, the former president of SOE and the current president of Daybreak, John Smedley, has finally broken his silence on Sony deciding to sell off the Planetside 2 and H1Z1 developer.
In a recent interview with PC Gamer Smedley addressed a question asking about whether Sony wanted to sell off SOE or if SOE wanted to separate from Sony. According to Smedley...
The president of the recently formed Daybreak Game Company explained that Sony Online Entertainment just kept growing in size but the revenue wasn't there to match it. They were a dedicated sidearm of the Sony gaming division focusing on MMOs such as Everquest and DC Universe Online to name but a few.
However, as Sony Online Entertainment they were severely limited in their software scope. They couldn't properly explore their content potential the way they wanted because they were limited to making games for only PC and PlayStation home consoles such as the PS3 and PS4.
Now that SOE has dissolved and Daybreak Game Company has come to fruition, there's a slew of new opportunities awaiting the studio, including the ability to finally port their games to the Xbox game consoles... preferably the Xbox One.
Smedley breaks it down and explains that now that they're out from under Sony they're allowed to be a lot more liberal with their public display of platform preferences...
The fact that Daybreak is talking about doing games for the Xbox One has opened up a lot of conversations about the expectations of seeing games like H1Z1 and Planetside 2 potentially end up on the Xbox One.
Of course, the developers will first have to ensure that H1Z1 is a workable release on PC before attempting to bring it to the home consoles.
I'm sure Sony is probably kicking themselves just a bit knowing that the two MMOs – especially H1Z1, the open-world MMO survival game – will no longer be exclusive to the PS4, but at the same time Smedley made a good point bringing up to PC Gamer that the company is looking to lop any expenses they can that doesn't fit in with their direct revenue streams.
Your Daily Blend of Entertainment News
Staff Writer at CinemaBlend.